ESPN is reporting that Nationals players Brad Wilkerson, Terrmel Sledge, and a player to be named will be headed to the Rangers in exchange for Alfonso Soriano. After Brad Wilkerson hit a career high 32 home runs in 2004, he and the rest of the Montreal Expos became the Washington Nationals. The move was not kind to Brad Wilkerson, as he experienced his worst season to date by hitting just 11 home runs with a .248 batting average. Now that he'll be playing in the batter friendly confines of Ameriquest Field in Arlington, is it likely that he'll rebound in 2006?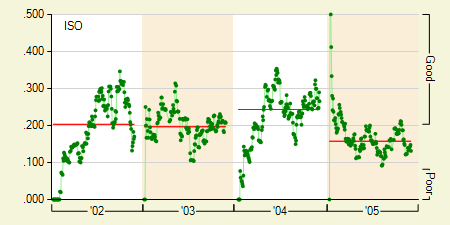 Where did your power go Brad Wilkerson? Playing in R.F.K. stadium certainly didn't help. Only 7% of fly balls hit in R.F.K. stadium became home runs, the lowest in baseball. Yet he wasn't just bad playing at home, he was even worse on the road. Check out his Home/Away splits from 2004 compared to 2005.
HR/FB Splits
Season	Home	Away
2002	18%	11%
2003	15%	15%
2004	15%	17%
2005	7%	5%

As you can see, something was seriously out of whack last season and chances are it was an "irritated ulnar nerve" in his forearm that bothered him the entire 2005 season. It's also worth noting that in 2004 he altered his approach at the plate which caused him to start hitting more fly balls. With his HR/FB of just over 16% in 2004, that easily explains the career high 32 home runs.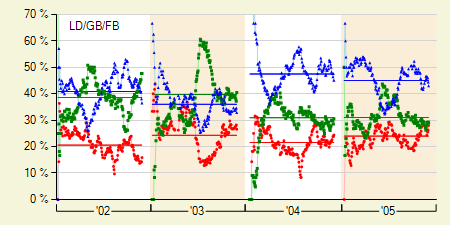 But what about his sub par batting average? His walk percentage was down slightly to just under 13%, but that's still very good. It really all boils down to his high number of strikeouts. The good news is, he's been chopping away at his strikeout percentage (K%) each year he's been in the league. If he can continue to lower it, there's bound to be improvements in his batting average.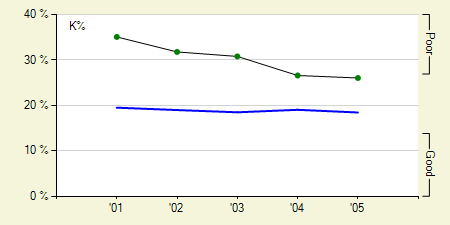 Brad Wilkerson's 2005 power outage seems like it's mostly due to injury, with some additional help from R.F.K. stadium. If he's healthy in 2006, I see no reason why he won't be able to fully rebound. He's a perfect match for Ameriquest Field where left handed batters hit a league high 15% of their fly balls for home runs. Also, let's not forget he's only 28 years old and just entering what should be his most productive years.
Print This Post
---