Yesterday the Nationals traded Vinny Castilla to the Padres and in return Brian Lawrence. Trading the 38 year old 3rd baseman to make way for Ryan Zimmerman was a good idea, but how excited should Nationals fans get about Brian Lawrence?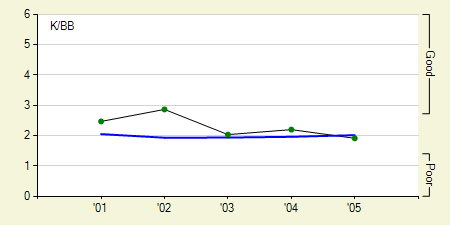 Taking a look at his Strikeout to Walk ratio (K/BB), he's been headed in the wrong direction his entire major league career. In recent years he has struck out around 5 batters per 9 innings; rather unspectacular. But one thing Brian Lawrence does have going for him is that over the past four years he's been one of the top ground ball pitchers in baseball.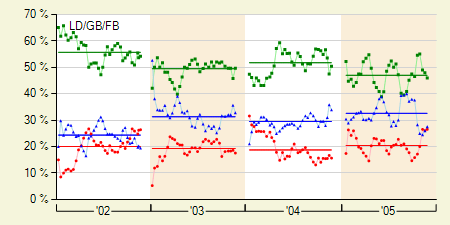 Since he's only 29 years old, there's still time for him to have a breakout season. Even if he doesn't, the Nationals don't need to him to pitch like an ace, as he'll likely be pitching behind Livan Herandez and John Patterson in the rotation. All he needs to do is pitch 200 solid innings with an ERA around 4 for him to be a successful acquisition. You can pencil him down for that at the very least.
Print This Post
---