Today my faith in the Baseball Writers' Association of America was restored after they voted to give Chris Carpenter his first Cy Young award. Despite Dontrelle Willis' MLB high 22 wins, and Roger Clemens' MLB low 1.87 ERA, Chris Carpenter was actually the superior pitcher in 2005.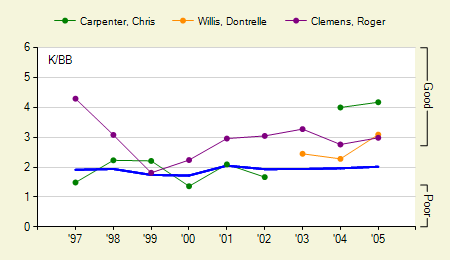 If you compare their strikeout to walk ratio (K/BB) you'll see that Chris Carpenter was a good deal more effective than his counterparts. He led the majors with 27 quality starts and for 4 months in the middle of the season he had 22 consecutive quality starts where he compiled a stellar record of 16-2.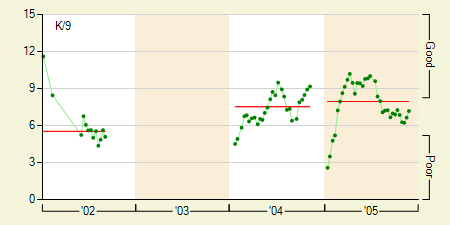 Oddly enough, he was not the same pitcher in the second half of the season as he was in the first half. As you can see, his strikeouts per 9 innings (K/9) took a large dip in the middle of the season and never recovered. He went from a K/9 of 8.9 in the first half to a K/9 of 6.8 in the second half. His walks per 9 innings (BB/9) followed nearly the same pattern.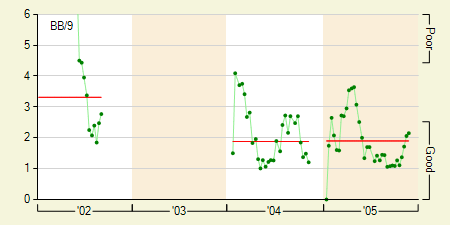 The dip in strikeouts is definitely something to keep an eye on early next season, but long as he can keep his walks low, there's no reason he can't continue his success. Chris Carpenter can live with striking out a few less people, as he's one of the top groundball pitchers in the league.
Print This Post
---