Reports are that free agent Kyle Fransworth will likely be signed by the Yankees to a three year contract somewhere in the neighborhood of 17 million dollars. This past year he had his best season ever by posting an ERA of 2.19 and striking out 87 batters in just 70 innings of work. He was traded to the Braves in early August and took over the closers role by the end of that month where he went 10 for 10 in saves. The last time Kyle Fransworth pitched nearly this well was 2001 and he's never had back to back seasons with an ERA under 4. Will he be able break that trend and repeat his 2005 season next year?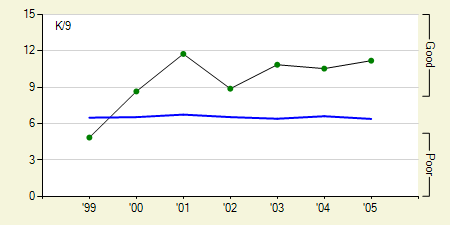 If his strikeouts per 9 innings (K/9) are any indication of how well a reliever does (which they are), then I'd say he's a pretty attractive relief pitcher. He had the sixth highest K/9 of any relief pitcher in 2005. Unfortunately, he has been periodically wild and that has kept him from consistently being one of the best relievers in baseball.
The two other things he had going for him in 2005 were the small number of home runs he allowed and his Batting Average on Balls in Play (BABIP). He only gave up 5 home runs the entire season making his home runs per 9 innings (HR/9) the lowest of his career. Likewise, his .261 BABIP was also the lowest of his career.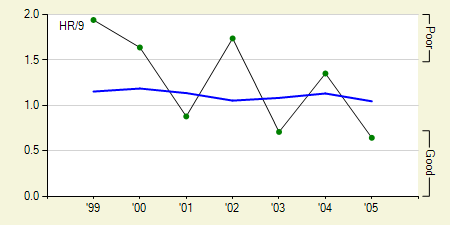 I think Kyle Farnsworth was definitely a little lucky last year, but that's no reason to think he can't be a dominant pitcher in 2006. His K/9 is exactly where you want it to be for a relief pitcher and while an increase in his home runs and BABIP are likely, there is still plenty of room to improve the the number of walks he issues. I think we'll see a similar Kyle Farnsworth next year, and for the first time he'll keep his ERA well under 4 for two consecutive season.