Yesterday it was reported that the Mets will trade Mike Cameron to the Padres for Xavier Nady. The trade is contingent on Mike Cameron successfully passing a vision test since his 2005 season ended prematurely after butting heads (literally) with Carlos Beltran. Let's take a look at how he might fare with a change of scenery.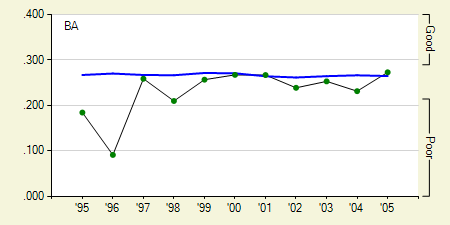 The two nice things about Mike Cameron are that he has both power and speed. He's been a 25 Home Run / 30 Stolen Base guy on a few occasions. Unfortunately, as you can see from the graph above, he doesn't hit for average. He did however hit for a career high .273 last season, despite his falling walk to strikeout ratio (BB/K).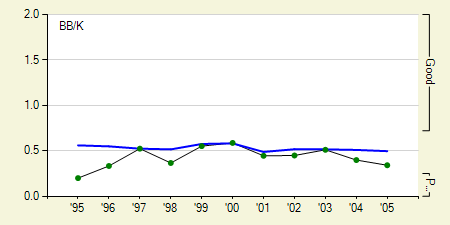 I do find this downward trend in his BB/K rather disturbing as it is nearing unacceptable levels. This decline was masked by a very high Batting Average on Balls in Play (BABIP), which explains the career high batting average. Assuming his BABIP returns to a normal level next year, he'll probably hit closer to .240 than .270.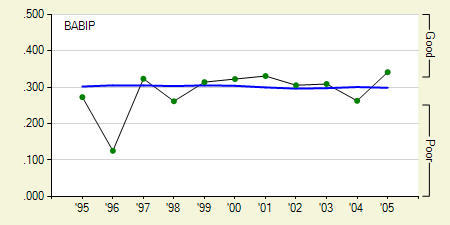 As for his power numbers, a move to PETCO Park certainly won't help him as it's the most difficult park to hit home runs in. Yet, I honestly don't see much of a decrease since he's played in Safeco Field and Shea Stadium the past 6 years which are also difficult parks to hit home runs in for right handed batters. Also, the Padres like to steal as much as any team, so I don't see him stealing any fewer bases. All in all, he should have a very typical Mike Cameron year; decent power and speed, with no consistency to get on base.
Print This Post
---