Does anyone remember when Mike Mussina went 3-1 with a 2.14 ERA in his final 6 starts of the 2004 season after posting a 5.42 ERA in his previous 21 starts? He had just come back from an elbow injury requiring he spend over a month on the disabled list and it looked like the old Mussina, who had a career 3.54 ERA (instead of an ERA over 5) had returned!
There were high hopes going into the 2005 season, but they quickly faded as he went 1-2 with an ERA just under 5 in the first month of the season. In May, June and July he pulled things together, posting a 9-4 record with a 3.49 ERA, but was plagued with elbow tendonitis the final two months of the season. Let's see if Mussina's roller coaster ride will continue in 2006.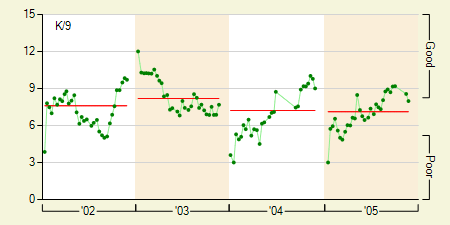 For the second year in a row his strikeouts per 9 innings (K/9) slowly climbed out of the gutter to finish the year at a respectable 7.1. While this is certainly adequate for most starting pitchers, it's worth noting that this is an 11 year low for Mussina. In his poor first month of the 2005 season, his K/9 was a mere 5.5 which was mainly due to a lack of velocity on his fastball.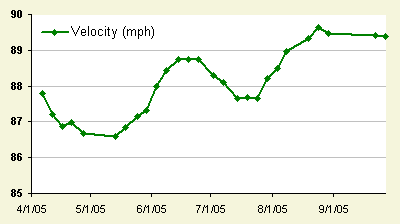 He could barely get his fastball up to 90 mph, often throwing it below 85 mph during the first month of the season. During his good stretch in the middle of the season he was throwing it consistently just under 90 with it topping out around 92. Needless to say, his decreased velocity early on made him much more hittable.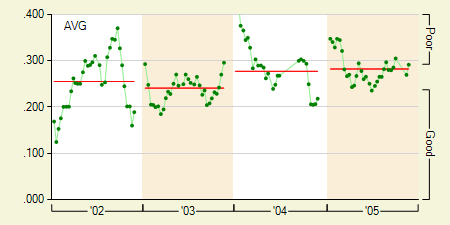 Even while not at his best, Mussina is still a lot better than many starters out there, but it looks as though these past two seasons were the beginning of the end. At 37 years old and with his recent injury history, I doubt he'll be able to pitch a consistent season. He'll have his moments, maybe even a great month or two, but I suspect the roller coaster ride we've become accustom to the past two years will continue.
Print This Post
---