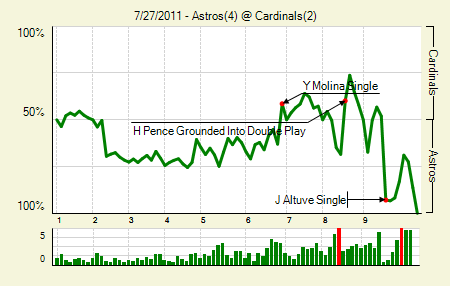 Moving the Needle: Jose Altuve breaks the tie with a single in the ninth, +.448 WPA. The good news: Jon Jay drove in a run with a double in his first official game as Colby Rasmus's replacement. The bad news: the Cardinals couldn't muster more than two runs. That opened an opportunity for the Astros in the ninth. They started with a double, and with two outs they had men on first and second. Altuve grounded one right back up the middle, bringing home the first run easily. The second run came around, too, when Jay's throw got away from cutoff man Albert Pujols. The Cards threatened in the ninth, but could not strike.
Notables
Bud Norris: 6 IP, 4 H, 2 R, 2 BB, 5 K. He hasn't struck out more than five since the first of July.
Clint Barmes: 2 for 4, 1 2B, 1 HR. He's the one who started the ninth with the double, making him a pretty big figure in this one (even though he got cut down before he got to third).
---
Also in this issue: Red Sox 12, Royals 5 | Braves 2, Pirates 1 | White Sox 2, Tigers 1 | Mets 8, Reds 2 | Angels 3, Indians 1 | Rockies 3, Dodgers 1 | Mariners 9, Yankees 2 | Brewers 2, Cubs 0 | A's 13, Rays 4 | Marlins 7, Nationals 5 | Twins 7, Rangers 2 | Giants 2, Phillies 1 | Blue Jays 3, Orioles 0 | Diamondbacks 4, Padres 3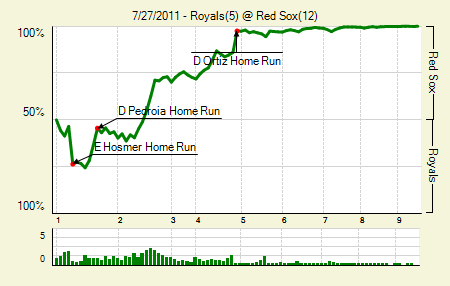 Moving the Needle: Eric Hosmer's three run shot stakes the Royals to an early lead, +.201 WPA. As was the case with the Phillies earlier in the season, it feels as though the Red Sox aren't going to lose a game. Their offense, seemingly, can cover up any shortcomings. John Lackey got off to a poor start, allowing a first-inning, three-run homer to Hosmer, but the Red Sox bounced right back. It took them two innings to take a lead, and four to essentially seal it.
Notables
Dustin Pedroia and Jacoby Ellsbury: both 3 for 4, 1 HR. Ellsbury also doubled. It's these two atop the order that has really fueled this team's gargantuan offense.
David Ortiz: 1 for 4, 1 HR. Oh, and him too.
---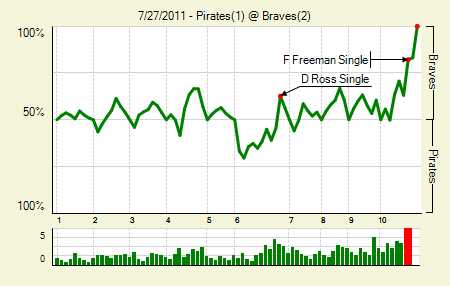 Moving the Needle: Freddie Freeman sets up the Braves in the 10th, +.190 WPA. For the second straight night the Pirates and Braves played to a tie in regulation, but this time they finished the contest relatively quickly. Nate McLouth singled to lead off the 10th, and two batters later Freeman, after just missing a walk-off homer, lined one to right, moving McLouth to third. After an intentional walk, David Ross hit an easy single that ended the game.
Notables
Dan Uggla: 3 for 4, 1 2B, 1 BB. They walked him intentionally in the 10th, which didn't work out so well. Since June 11th he's hitting .258/.345/.510.
Jair Jurrjens: 7 IP, 6 H, 1 R, 3 BB, 4 K.
Paul Maholm: 7 IP, 9 H, 1 R, 0 BB, 8 K. That's his third eight-strikeout game this year. He had just two in 2009 and 2010 combined. His last 10-strikeout game was August 8th, 2008.
---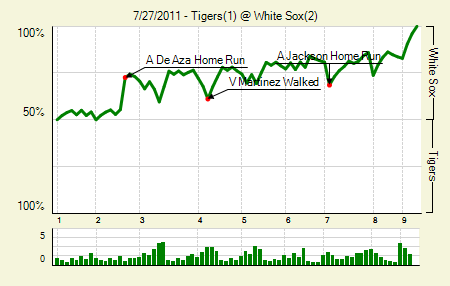 Moving the Needle: Alejandro De Aza homers to give the Sox an early lead, +.172 WPA. Yesterday the White Sox recalled De Aza, who had a .382 wOBA at AAA, to take starts from Alex Rios. He rewarded them in his first at-bat by pulling one over the right field wall to give them a 2-0 lead. Those were, in fact, the only runs the White Sox scored, though thanks to some quality pitching it held up.
Notables
John Danks: 6 IP, 6 H, 1 R, 3 BB, 10 K. He also hit a batter. That's 28 batters faced, 116 pitches, and 10 base runners in six innings. Yet Danks kept things relatively scattered, running into the most trouble when he loaded the bases with one out in the third. He put the first two on in the fourth as well, but then struck out the side.
Max Scherzer: 6 IP, 6 H, 2 R, 4 BB, 8 K. It seems as though they pitched roughly as equals, but the homer Danks allowed was a solo shot, while there was a man on for Scherzer's. That's the only difference, really.
---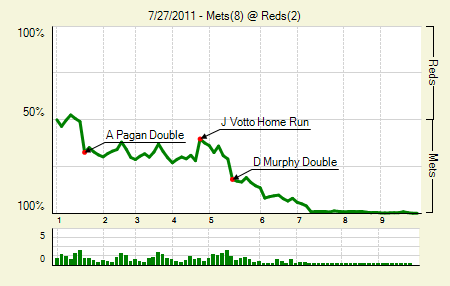 Moving the Needle: Angel Pagan gets things started in the first with a two-RBI double, +.164 WPA. Reyes and Wright set them up, both singling in the first. Pagan knocked them down with a line-drive single to right that easily got home both runners. The ball actually didn't even get to the wall, but Pagan still managed to sneak into second.
Notables
Mike Pelfrey: 9 IP, 7 H, 2 R, 0 BB, 3 K. He has 38 ground balls to 22 balls in the air in his last three starts.
David Wright: 2 for 4, 1 HR. He drove in four, and has generally been awesome since his return from the DL.
---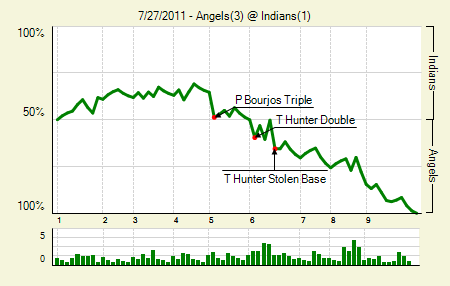 Moving the Needle: Carlos Santana kicks the ball away, allowing a runner to score, -.153 WPA. Clearly Ervin Santana was the story in this one, but the Angels offense actually had to do some work. Santana actually allowed a run, and so the Angels needed to get two on the board. They got the second in the sixth inning, with runners on first and third with two outs. Howie Kendrick broke for second, and there is where things get tricky. Carlos Santana sprang up as if to throw him out, but he didn't catch the ball first. It fell to his feet, and he kicked it down the first base line. Torii Hunter noticed, and booked it for home, sliding in just under the tag. That gave the Angels the lead and made things somewhat less stressful.
Notables
Ervin Santana: 9 IP, 0 H, 1 R, 1 BB, 10 K. The Indians first batter of the game reahed on an error, and eventually scored after a stolen base, fielder's choice, and wild pitch. But Santana rolled from there, retiring 22 straight before issuing a walk in the eighth, and then getting the final five, the first three of them on strikeouts, to complete the no-hitter.
Peter Bourjos: 2 for 4, 1 3B. He scored the first run on a sac fly after he tripled, and then drove in an insurance run later. He also took a throw off the face while on the base paths.
---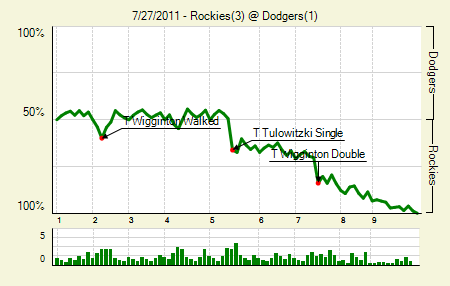 Moving the Needle: Troy Tulowitzki gets the Rockies on the board with an RBI single, +.168 WPA. Pitching did most of the work in avoiding yet another loss to the Dodgers, but the Rockies still needed some offense. They got most of that from Tulowitzki, who drove in two and scored another. His first game in the fifth, a bouncer up the middle that brought home the runner from second.
Notables
Aaron Cook: 7 IP, 6 H, 0 R, 2 BB, 2 K. In typical Cook fashion, he got 16 grounders. That's easily his best start of the year, and the first time since May 21st, 2009 that he allowed zero run in at least 6 IP.
Seth Smith: 2 for 3, 1 2B, 2 BB. Both walks were intentional.
---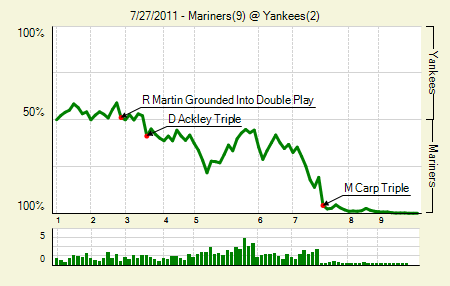 Moving the Needle: Mike Carp breaks open the game with a triple in the seventh, +.151 WPA. It surprises exactly no one that when the Mariners finally broke their losing streak, it was with Felix Hernandez on the mound. He took care of the Yankees with little trouble, leaving the offense with a smaller task at hand. They got two off of Phil Hughes, but then went to town on the bullpen. Carp came up with the bases loaded and two outs in the seventh, and he took it all the way to the wall in right-center, clearing the bases and giving the Mariners a 7-1 lead.
Notables
Felix Hernandez: 7 IP, 5 H, 1 R, 4 BB, 5 K. He again stymied the Yankees, whose fans think Felix is theirs by birthright.
Ichiro Suzuki: 4 for 5, 1 2B. That was only his second double since June 17th.
---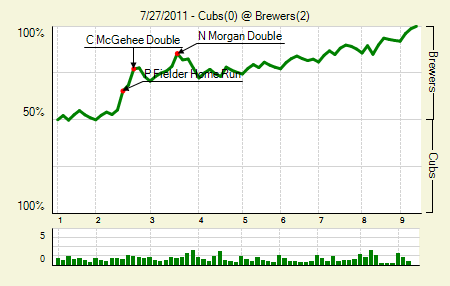 Moving the Needle: Prince Fielder opens the scoring with a solo homer, +.102 WPA. Just a couple of runs scored in this one, and so in hindsight Fielder's solo homer in the second had a bit more impact than WPA would indicate. It was an opposite field knock, Fielder's 23rd of the season. What had a bit more impact, though, was Rickie Weeks's ankle injury. It's still unknown how long that will keep him out.
Notables
Zack Greinke: 6.2 IP, 3 H, 0 R, 3 BB, 9 K. Since getting knocked around in New York he's gone 31.2 IP, 24 H, 14 R, 9 BB, 43 K in five starts.
Carlos Zambrano: 6.2 IP, 6 H, 2 R, 2 BB, 3 K. That might be an audition to get out of town, but if he's not a Cub in September I'll be shocked.
---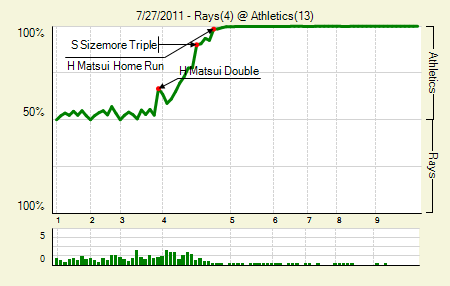 Moving the Needle: Hideki Matsui drives in the first of many, +.142 WPA. With two outs in the first Matsui whaled a double over Desmond Jennings's head in center to give the A's a 1-0 lead. It wasn't until the next inning that they really erupted, rallying for nine runs, including a Matsui three-run homer. Matsui then drove home another in the fifth, giving him five on the day.
Notables
Ryan Sweeney: 3 for 4, 1 2B, 1 HR, 1 BB. He scored three and drove in two. He could be in for some more playing time soon, if the A's deal any of their outfielders in the next few days.
Trevor Cahill: 7.1 IP, 4 H, 0 R, 4 BB, 6 K. In four of his last five starts he's gone 29 IP, 19 H, 7 R, 12 BB, 24 K. It's that other start that was the problem.
---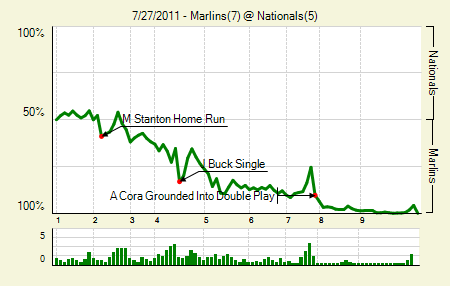 Moving the Needle: John Buck brings home two with a bases-loaded single, +.178 WPA. The Marlins threatened by loading up the bases with one out in the fourth. With two out, Buck grounded one between third and short to bring home a pair of runs and make it 3-0 Fish. An error on the play moved the runners up to second and third, but unfortunately the pitcher's spot was up. Javy Vazquez ended that frame, but the Marlins came back to tack on plenty.
Notables
Javier Vazquez: 7 IP, 6 H, 1 R, 3 BB, 4 K. That's a nice little bounce back after getting knocked for five in 4.1 innings last time out against the Padres.
Mike Cameron: 2 for 5, 2 HR. He has only eight hits as a Marlin, and three of them have been homers.
---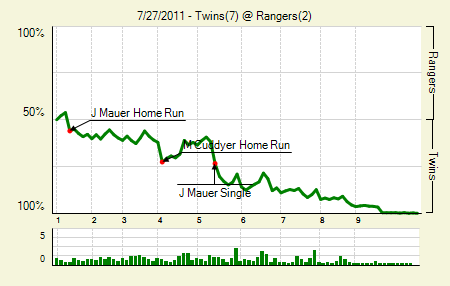 Moving the Needle: Joe Mauer extends the Twins lead with an RBI single, +.117 WPA. If you're going to let your opponent score 20 runs in a game, you might as well come back and win the next two. The Twins got started on that early, getting a Mauer homer in the first, followed by another homer in the fourth, and then Mauer's RBI single in the fifth. Things picked up from there, leaving the Twins in the driver's seat for all of this one.
Notables
Brian Duensing: 6.2 IP, 7 H, 1 R, 1 BB, 6 K. His FIP and xFIP line up from last year, yet his ERA is about 2.5 runs worse.
Michael Cuddyer: 2 for 5, 1 HR. He drove in two and scored two.
---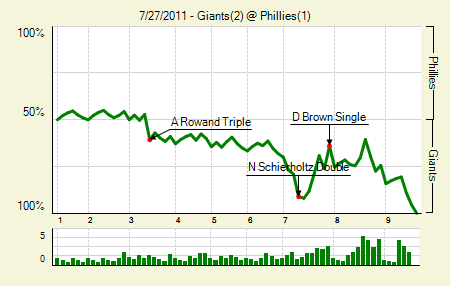 Moving the Needle: Aaron Rowand triples home the first run, +.135 WPA. Cain-Hamels lived up to its billing, which meant runs came at a premium. The Giants got theirs from a pair of outfielders, only one of whom will start tomorrow night. The first came from the one who will sit, Rowand, who basically placed one in the right field corner for an RBI triple. Of course, the play at the plate was closer than the play at third would have been, on account of Eli Whiteside running.
Notables
Cole Hamels: 7.2 IP, 6 H, 2 R, 1 BB, 6 K. He's allowed just 3 HR in his last 11 starts.
Matt Cain: 7 IP, 4 H, 1 R, 1 BB, 1 K. That's eight starts now without allowing a homer. His HR/FB is now 4.4%.
---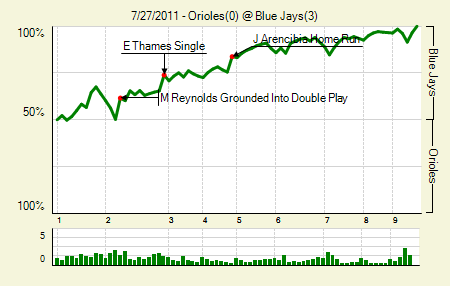 Moving the Needle: Mark Reynolds grounds into a double play in the second, -.114 WPA. The Orioles fell behind 1-0 in the first, but got to work in the second. They got a walk and a single to open the second, but then Reynolds hit into a 6-4-3 double play, which took the wind out of those sails. In the bottom half the Blue Jays scored again, but it mattered not. The O's didn't bring much the rest of the game.
Notables
Ricky Romero: 8.1 IP, 4 H, 0 R, 3 BB, 9 K. He'd hit a little rough patch, allowing 18 runs in his last four starts (23 IP). This is the fifth time he's gone at least eight this season.
---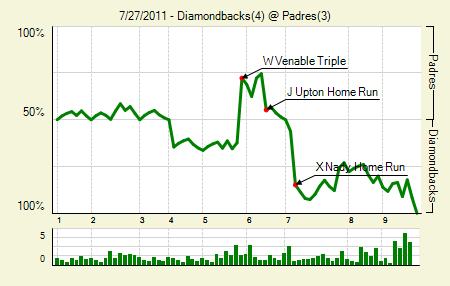 Moving the Needle: Will Venable triples home the go-ahead runs, +.346 WPA. Down 1-0 in the fifth, the Padres put two on with a walk and a single. With two outs in the inning Venable came up, and he blasted one out to the wall in right. It eluded Justin Upton and caromed away, giving Venable the opportunity to reach third — but more importantly, it made it easier for the trail runner to score. But the Diamondbacks did battle back, tying it up the next inning and then taking the lead on an Xavier Nady two-run homer.
Notables
Justin Upton: 2 for 4, 2 HR. In typical Upton fashion, they were both bombs. The second one went to the upper deck of the Western Metal Supply building.
Xavier Nady: 3 for 4, 1 HR. He and Upton brought all of the offense in this one.
---
Print This Post
---