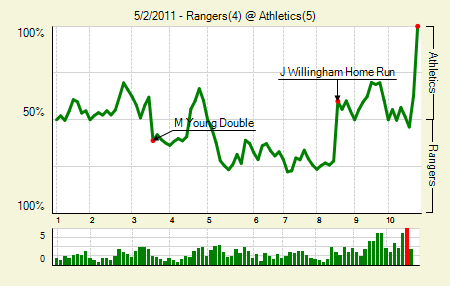 Moving the Needle: Hideki Matsui ends it with a homer, +.375 WPA. Same as last season, Matsui is off to a slow start in 2011. He had only one hit in this game, but he made it count. On the first pitch of the 10th inning he took Darren Oliver deep, ending the game just like that. It was the A's third home run of the day, each of which led off an inning.
Notables
Brandon McCarthy : 6 IP, 6 H, 4 R, 0 ER, 2 BB, 4 K. Notable, because those unearned runs aren't exactly fair. McCarthy committed the two errors that rendered them unearned.
Kurt Suzuki: 2 for 4, 1 HR. That's his third homer of the year, but second of the Texas series. In total he was 6 for 16.
Derek Holland: 7 IP, 8 H, 3 R, 2 ER, 2 BB, 4 K, 1 HR, 12 GB. The ground balls will lead to hits, but they'll also keep runners moving station to station. This will bring down his ERA a bit, but it's still considerably higher than his FIP and xFIP.
Also in this issue: Red Sox 9, Angels 5 | Braves 6, Brewers 2 | White Sox 6, Orioles 2 | Dodgers 5, Cubs 2 | Yankees 5, Tigers 3 | Nationals 2, Giants 2 | Marlins 6, Cardinals 5 | Pirates 4, Padres 3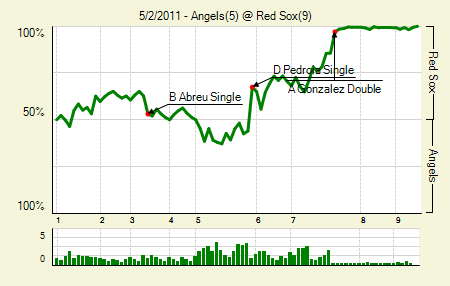 Moving the Needle: Dustin Pedroia singles up the middle to give the Sox the lead back, +.235 WPA. While the Sox really blew this one open in the seventh, they got their lead back in the fifth. Carl Crawford got things started with a one-out double, advancing to third on a ground ball. When Pedroia came to the plate Jacoby Ellsbury was standing on second, so basically anything to the outfield would score two runs. On the fifth 3-2 pitch of the at-bat he reached out and smacked an outside fastball back up the middle, which was easily enough to turn the game.
Notables
Clay Buchholz: 6.2 IP, 8 H, 2 R, 2 ER, 2 BB, 2 K, 0 HR, 14 GB. He's still not missing bats, and actually has more walks than strikeouts this season. But the ground balls are a good sign — he had a 50.8% ground ball rate last year and is 49.9% for his career.
David Ortiz: 2 for 4, 1 HR. That's just his third homer and eighth extra base hit of the season, yet it's an insane improvement over his start to 2010. Through 109 PA last year he was hitting .224/.294/.469. This year he's .277/.377/.436.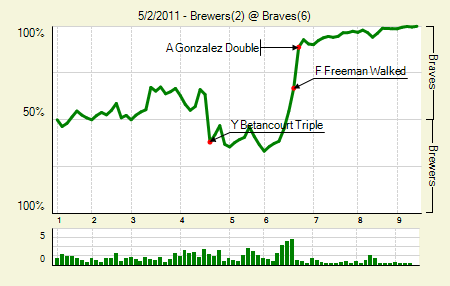 Moving the Needle: Yuniesky Betancourt triples home a pair to take the lead, +.255 WPA. Down 1-0 in the fourth, the Brewers got something going with a runner on third and one out. They suffered a slight setback when Ryan Braun got cut down at the plate, but Betancourt made up for it two batters later. He hit one over Nate McLouth's head, sending the center fielder chasing. He nearly caught up, but his momentum ended up putting him further away from the ball, which allowed Betancourt to take third. Two runs scored, giving the Brewers a 2-1 lead. But that was it for them.
Notables
Alex Gonzalez: 2 for 4, 1 2B. The double came with the bases loaded, clearing them and giving the Braves the lead back. I have no idea how that wasn't the high WPA play.
Jair Jurrjens: 7.2 IP, 7 H, 2 R, 2 ER, 0 BB, 4 K, 0 HR, 14 GB. He has allowed just five runs in his 27.2 IP this season.
Chipper Jones: 2 for 3, 1 2B, 1 BB. That's six walks in his last eight games, after eight in his first 20.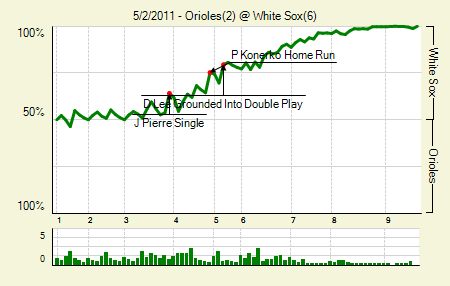 Moving the Needle: Paul Konerko hits his first homer of the game, +.108 WPA. The White Sox started scoring relatively early, and then kept piling it on, which is quite a change for a team that hasn't scored six runs in a game since April 21st. Konerko had the big hit in this one, a long home run off Jeremy Guthrie that extended the White Sox lead to 2-0. Later in the game Konerko added a sac fly and a two-run shot.
Notables
Mark Buehrle: 6.2 IP, 8 H, 0 R, 4 BB, 4 K, 13 GB. After a few fly-ball-heavy starts, Buehrle finds success with the old worm killer. That's only the 17th time, in 341 career starts that Buehrle has walked as many as four in a game.
Alex Rios: 2 for 4, 1 HR. He broke his season-long homerless drought on Saturday, so that's two in three games. He still hasn't doubled since April 13th.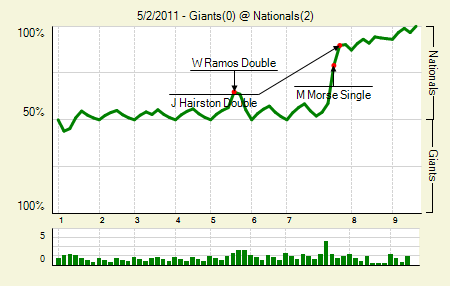 Moving the Needle: Mike Morse breaks the scoreless tie in the seventh, +.203 WPA. The Nats and Giants combined for three hits through the first six and a half innings of this one. The bottom of the seventh appeared to be another scoreless affair, as the Nats had the bases empty with two outs. But a pair of singles put runners on first and third, giving them life. Mike Morse cashed in the first one, grounding one back up the middle. Jerry Hairston followed with a double to make the score 2-0, which is where they finished in the capital.
Notables
Tom Gorzelanny: 8 IP, 3 H, 0 R, 0 BB, 4 K. He was only at 95 pitches, but he didn't get the chance at the complete game. Drew Storen came on to record the final three outs.
Madison Bumgarner: 7 IP, 5 H, 2 R, 2 ER, 1 BB, 7 K. The walk was intentional. After a real tough start to the season he's had two good starts in a row, striking out seven in both. Unfortunately, his team has scored zero runs for him in both games.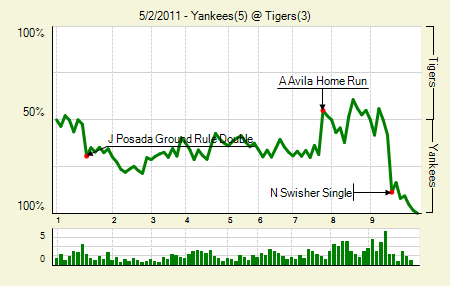 Moving the Needle: Nick Swisher breaks the tie in the ninth, +.306 WPA. The Yankees took an early lead off Justin Verlander, but the Tigers slowly worked their way back. By the seventh they had tied it up at three. It appeared the Yankees had blown an opportunity in the ninth when Curtis Granderson overslid the bag at second on what appeared to be a successful steal attempt, but a wild Jose Valverde kept the Yanks alive. A walk and an infield single (on a playable but tough ball) set up Nick Swisher, who drove one into center to bring home the go-ahead run. Valverde looked off all inning, throwing one to the backstop at one point. A wild pitch also gave the Yanks an insurance run.
Notables
Bartolo Colon: 7 IP, 7 H, 3 R, 3 ER, 0 BB, 7 K, 2 HR, 12 GB. Considering the last five years, this run has been pretty incredible. His biggest blemishes were clearly the two homers, both of which came off the bat of…
Alex Avila: 2 for 4, 2 HR. Both solo shots, but one got the Tigers on the board and the other tied the game.
Jorge Posada: 2 for 5, 1 2B. That's his second double in two games after zero in his first 21.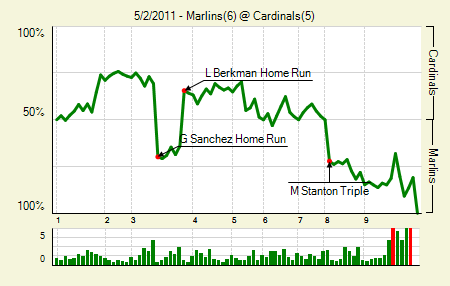 Moving the Needle: Gaby Sanchez hits a granny, +.392 WPA. After getting through the first two innings without allowing a hit, Kyle Lohse ran into some third inning trouble. It started when the pitcher, Chris Volstad, singled, and then continued with two walks. On a 2-2 count with two outs, Lohse left one up and out over the plate for Sanchez, who crushed it into the Cardinals' bullpen to turn a 2-0 deficit into a 4-2 lead. The Cardinals would retake the lead a half inning later, but the Marlins tied it in the fifth and then took the lead in the eighth.
Notables
Mike Stanton: 3 for 5, 1 HR, 1 3B. The homer was a line drive off the facing of the third deck, right next to the Big Mac sign.
Lance Berkman: 2 for 3, 1 HR, 1 BB. Who leads the NL in wOBA? Yep, that's Berkman.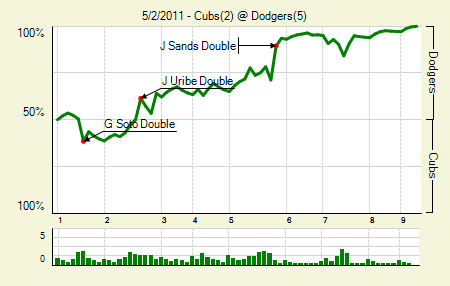 Moving the Needle: Jerry Sands doubles home a pair, +.181 WPA. The Dodgers had a bit of good luck and bad luck to start the fifth. The good luck came when Kershaw reached base on a dropped third strike. The bad came when Rod Barajas got cut down at home on a safety squeeze. Wait. What was that? It was a suicide squeeze? Geez, so maybe it wasn't exactly bad luck. In any case, Sands came up next and he hit a liner into the gap that rolled all the way to the wall. Both runners scored, giving the Dodgers a 4-1 lead. The hit was Sands's sixth double of the year. He has only three singles.
Notables
Andre Ethier: 1 for 4. Extends his hitting streak to 28, though you knew that before reading this. The single came immediately after Sands's double, giving the Dodgers a 5-1 lead.
Clayton Kershaw: 7 IP, 8 H, 2 R, 2 ER, 0 BB, 4 K, 1 HR, 13 GB. Lots of ground balling last night, it seems.
Alfonso Soriano: 1 for 4, 1 HR. That's his fifth homer in his last five games, giving him a league-leading 11 for the year. He has only 12 singles on the year.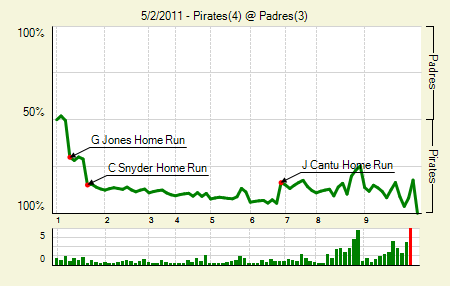 Moving the Needle: Garret Jones puts the first two runs on the board, +.196 WPA. The Pirates jumped out to an early lead in this one, and Jones got things started with a long two-run blast to right- his sixth homer of the year, and it helped raise his wOBA to .413. Four batters later, Chris Snyder added his own two-run blast, putting the Pirates out 4-0 in the first. Of course, they wouldn't score the rest of the way.
Notables
James McDonald: 6 IP, 5 H, 2 R, 2 ER, 1 BB, 5 K, 1 HR. That's two straight decent outings for McDonald, who started the year in horrific fashion. Even after 2 ER in his last 12 IP his ERA is still over 6.
Brad Hawpe: 1 for 4, 1 2B. At this point, he'll take it. He couldn't, however, avoid striking out in this one.