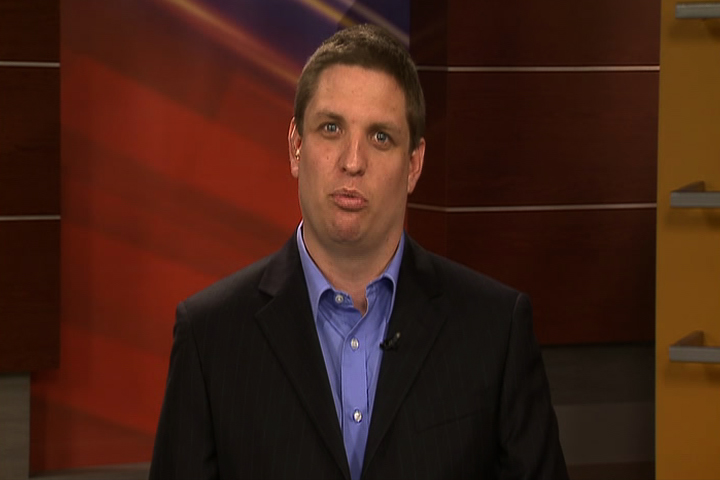 During his weekly appearance on Fangraphs Audio this Monday, Dave Cameron took a break from being frustrated with Carson Cistulli to express his frustration with how many transactions there have been thusfar, and how burned out he has been writing up reactions to them. This sounds like complaining to the layman, but is actually an early signal to the Dave Cameronologists of NotGraphs that we may need raise the Dave Cameron threat level:
And indeed, yesterday, as the A's acquired Craig Gentry from the Rangers the threat level rose from a blue-ish green to definitively yellow. Reports kept flying in from around the league of trades and signings, however, on one of the biggest days for baseball news in recent memory, and the pressure began to build again. By the time the Yankees signed Jacoby Ellsbury, the Dave Cameron threat level stood around rust, and was quickly transitioning to burnt sienna.
That's where we stand today, gentle reader. We encourage all baseball teams not to provoke Dave Cameron for at least 24 hours. Jon Heyman has been removed to a safe location and Ken Rosenthal has had his iPhone confiscated. As of press time, Jon Morosi had not been located, so we can only pray that the Tigers don't do anything today.
And whatever you do, do not stare into those cold, unblinking eyes lest Dave Cameron feels like you have a transaction to tell him about and he charges. An agitated Dave Cameron is one of nature's deadliest creatures.
Print This Post
---
Mike Bates used to have a stupid pseudonym. Now he doesn't because people want to pay him to write about baseball on the Internet and he's really a sell out that way. He is also a Designated Columnist at SBNation, co-founder of The Platoon Advantage, and is an American Carpetbagger on Getting Blanked, the finest in Canadian baseball-type sites. His favorite word is paradigm. Follow him on Twitter here: http://www.twitter.com/commnman