Doctor Cyclops, by Will Johnson
When I am sad, I like to spend money. Because I am often sad, I am in big time mondo debt, as many of you know. At the moment, my cash flow is such that I cannot purchase any of these high quality screen print reproductions of Will Johnson's baseball paintings — which I happened upon while learning more about Johnson's recent musical project, Overseas, a collaboration with David Bazan of Pedro the Lion "fame" and the Kandane brothers of my [probably] favorite band ever, Bedhead (more recently of The New Year).
But that doesn't mean that you should not buy these prints — or the very painting themselves! — dear affluent and/or fiscally responsible NotGraphs readers.
Look, you cannot take your money to the grave with you. Well, you could, but you can't spend it from the grave. You could save it to give to your children, but let's face it: your children will probably be jerks who don't deserve an inheritance of significance, or they will be far wealthier than you, or both. Should they be neither, they will probably be the kind of people who would like to inherit a nice baseball painting or a high quality screen print of a nice baseball painting.
When you have grown putrid and reek also of antiquated ointments, you will be able to look upon these paintings and feel comforted: the Greats have preceded you in death; to yield to death is to follow their greatness in the only regard that you will ever manage to do so. You will be able to look at these paintings or prints one day and die consoled. In the meantime, you will enjoy their colors, the memories they evoke, a feeling of connection with other discerning baseball fans, one of whom produced these pieces of art, others of whom have similarly made the wise decision to purchase some of said pieces.
Let's face it: you should spend your money on these things.
A few more examples, for the enjoyment and convenience of said:

J.R. Richard, by Will Johnson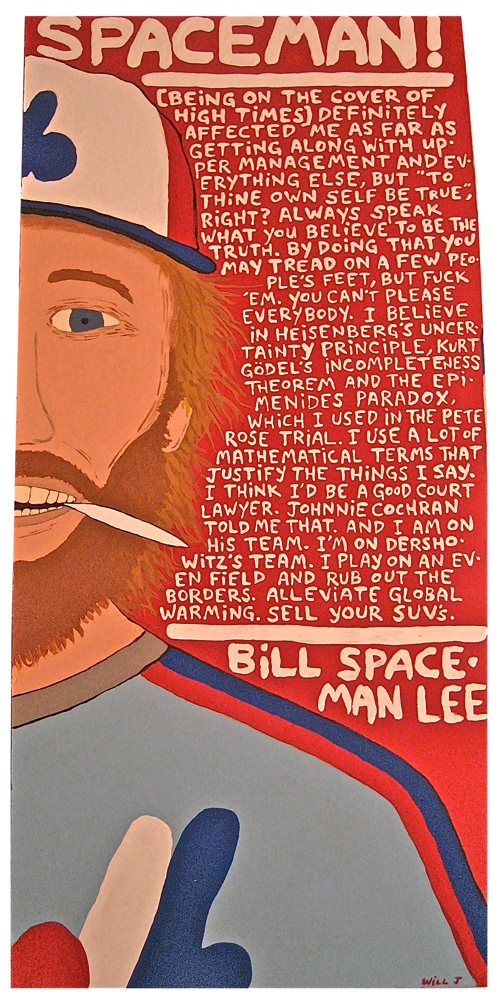 Bill "Spaceman" Lee, by Will Johnson (painting only)

Flying Dutchman, by Will Johnson (painting only)
Print This Post
---
Hire Robert J. Baumann to live-blog your next birthday party, family reunion, or corporate event. You will not want to forget it soon.