At some point in the next few weeks, the Chicago Cubs are going to blow up what has surprisingly been a very good starting rotation (by at least one measure, the best), continuing the cycle of accepting present-day pain for potential future gain. Jeff Samardzija and Jason Hammel will likely head elsewhere via trade, to be replaced for now by the likes of Chris Rusin and Tsuyoshi Wada, and the pitching will suffer for it. Almost certainly, the season will end with the Cubs in fifth place in the NL Central for the sixth consecutive year.
If that sounds like it's painting a bleak picture for Cubs fans, it shouldn't. The Cubs are already seeing the fruits of last year's deadline trades in the big leagues thanks to Jake Arrieta, Justin Grimm, Mike Olt and Neil Ramirez, and potential Hammel/Samardzija trades should only bring in more talent. In the minors, third baseman Kris Bryant has done nothing but destroy baseballs, continuing to test the organization's otherwise reasonable assertion that he won't see the bigs until 2015.
That might not make another 90-loss trip to last place any easier to watch as fans continue to hear about "the future," but this should: Right now, in 2014, the best first baseman in baseball might just be wearing Cubbie blue.
Chicago building block
Yes, we're talking about Anthony Rizzo, and yes, it's clear how crazy that might sound. "The best?!," you incredulously say, "after how disappointing he was in 2013, and with mashers like Miguel Cabrera, Joey Votto and Paul Goldschmidt at first base?"
Clearly, it's going to take more than this for Rizzo to enter the "best first baseman in the game" conversation for many people, but the numbers don't lie. So far, Rizzo is behind only Goldschmidt for most WAR among first basemen. By wRC+, an offense-only stat which corrects for park and league effects, he's ahead of both, in third place behind Edwin Encarnacion and the shocking performance of Adam LaRoche.
But why limit ourselves to first basemen? Rizzo, with his .284/.399/.524 line, is also on the cusp of "400/500" club, which is to say that he has an on-base percentage above .400 and a slugging percentage above .500. It's surprisingly difficult to do both; just six hitters have managed to do it through Wednesday (see table).
That's an impressive group of names with which to be associated, including last year's NL MVP and almost certainly this year's as well. (Yes, the underrated Jonathan Lucroy belongs there as well.) In the past 50 years of Cubs baseball, it's a feat that's only been achieved seven times, with Sammy Sosa and Derrek Lee doing it twice apiece.
But again, let's expand on that. Because this is already Rizzo's fourth major league season and his third organization since being drafted, it's easy to forget just how young he still is. At age 24 — Votto spent most of his age-24 season in Triple-A — Rizzo would find himself in some very rarefied company were he to keep this up. Over the past 50 years, just 22 players at any position put up a .400/.500 season at age 24 or younger, not including the trio doing it right now. You look at that list, and you're not just talking about good players; you're talking about all-time elites, names like Albert Pujols, Alex Rodriguez, Ken Griffey, Frank Thomas and Reggie Jackson. With the exception of one odd Fernando Tatis appearance, it's nearly impossible to have been on that list and not go on to an outstanding career.
It's still only June, of course, so perhaps by the end of the year Rizzo misses entry on that list by a few points on either side. That's okay, because whether or not he makes the list won't change the reality of the situation: Rizzo's improvement is real, and here's why.
Crushing southpaws on the North Side
If anything was holding Rizzo back from stardom in his first two seasons, it was his inability to hit lefty pitching. As you can see from the chart below, he's always been comfortably above-average against righties, but huge southpaw issues — these are on the scale of 100 being league-average, so you can read a 55 as being "45 percent below average" — threatened to make him a mere platoon bat.
This year, that's changed enormously, to the point that he's actually hitting lefties better than righties. It should be noted that Rizzo has had only 81 plate appearances against lefties in 2014, so it's not as though he's suddenly going to be the majors' foremost lefty-masher forever, but we can clearly see the change in underlying approach that's led to his improvement.
As manager Rich Renteria told the Chicago Tribune in March, "He's got to lay off pitches that pitchers want him to hit, which are in, off the [strike] zone, and he's just got to focus on out over the plate and handle pitches he can drive."
As we can see from FanGraphs' swing heat maps, Rizzo has done exactly that. In 2013 against lefties, he was unable to lay off against pitches high and inside. In 2014, knowing that the contact he made against those pitches rarely led to anything good, he's simply stopped swinging at them.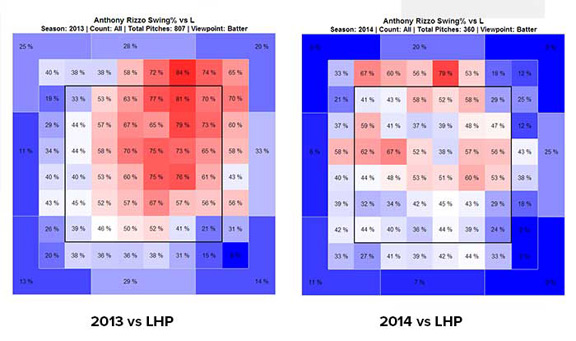 That's bad news for pitchers, because one of the most effective ways to retire a hitter is to get them to swing at pitches with low odds of success. There's a reason that the pitching leaders inO-Swing%, or the percent of pitches outside the strike zone that a better swings at, comprise a list of the best hurlers in the game. In the top 10 alone, you'll find Masahiro Tanaka, Felix Hernandez, Stephen Strasburg, Zack Greinke and Adam Wainwright.
That patience has carried over to righty pitchers as well, since Rizzo's overall swing percentage is down nearly 10 percent from what it was in 2012, nearly eight percent of which has come from fewer out-of-zone swings. You hear hitters talking about "waiting for their pitch" all the time, and this is the result. Simply not swinging at what the pitcher wants you to swing at can make a huge difference, not only in getting better pitches to hit, but in taking the walks that are given to you. (Rizzo's walk rate has doubled since 2012.)
Just over a year ago, the Cubs locked up Rizzo through 2019, with team options through 2021. With Andrew Cashner unable to stay healthy in San Diego, the deal that brought Rizzo to Chicago looks like a steal. The contract, which only guarantees him $41 million, looks like it may be an even bigger one. If the Cubs are ever to turn their current slide around, Rizzo may be the biggest reason why.
Print This Post
---