It's pretty easy to argue the Oakland Athletics are the best team in baseball, and maybe they are. After all, they do have the most wins, the best run differential and a rotation recently reinforced by Jeff Samardzija and Jason Hammel. They could be headed for their third consecutive AL West title.
But don't count out those Los Angeles Angels, who quietly won 10 of 11 games heading into the break. They find themselves just a game and a half behind the A's and are no doubt thinking about earning more than just a wild-card spot.
So how did the Angels get to this position after finishing 18 games out the past season? Well,Mike Trout has solidified his position as the no-doubt best player in the game, but he was this great in 2012 and 2013 too, and it didn't get the Angels to October. Rebounds by Albert Pujols and Josh Hamilton from disappointing 2013 seasons have helped of course, as has cutting out dozens of lousy starts from the 2013 group of Tommy Hanson, Joe Blanton and Jerome Williams.
But those improvements were countered somewhat by steps back and injury concerns from the veteran duo at the front of the rotation, Jered Weaver and C.J. Wilson. Rather, the biggest reason the Angels are 20 games over .500 at this point because of the emergence of a 26-year-old who can rightfully be thought of as the staff's ace: Garrett Richards.
Big arm, little production
For much of Richards' first two years in the big leagues, his reputation could be summed up as "great stuff without equivalent production." Very few starting pitchers can throw as hard as Richards: Of the 135 pitchers who threw at least 200 innings across 2012 and 2013, only five averaged more speed on their fastballs. But Richards' hard four-seam fastball, which he threw more than 1,100 times last year alone, wasn't consistently getting hitters out. Hitters had a line of .302/.342/.436 against it in 2013 and .286/.379/.448 in 2012. That 2013 line comes out to a 126 wRC+, which basically meant every hitter turned into Chase Utley against Richards' fastball, and despite having a good slider and intriguing but rarely used curveball, Richards threw one of his two fastballs (he also has a sinking two-seamer) nearly 70 percent of the time over the past two years.
Needless to say, relying so often on a pitch that wasn't working didn't do much for Richards' results. Of those same 135 pitchers, Richards' mediocre 4.33 ERA topped just 37 of them. And the velocity didn't help him collect strikeouts; he whiffed only 15.6 percent of the batters he faced — league average was 19.9 percent — which was essentially the same as that of noted soft-tossers Kyle Kendrick and Mark Buehrle. Combined with control that was fine but not elite, Richards' K percentage minus BB percentage of 7.5 percent was just 119th (of the 135 qualifying pitchers). That's at least partly why he needed a good spring this year to solidify his spot in the Angels' rotation.
Not only did he hang on to that job, but he has done much more than that. He has become the Angels' best starter and one of the best in the American League, one who should have been included on the All-Star roster. He's top 10 in WAR, ERA and FIP. After the poor showing in strikeout percentage last year, he's tied with Jon Lester with a 25.5 percent mark this season. Against his primary fastball, the slash line is now only .197/.314/.268, which is excellent.
The interesting part is how he has done it. Richards didn't learn a new pitch, though he is throwing his slider a bit more, which could be making his heater more effective. He didn't suddenly gain control — his walk rate is actually higher than it was last year, and his zone percentage is down five percent — and he hasn't suddenly fooled hitters into swinging at pitches outside the zone, since that rate is basically unchanged. Those are usually the first places you look when a pitcher has improved, and none of three applies to Richards.
Instead, here's what he has done:
1. He's throwing harder: This shouldn't even be possible, really, but Richards took the heat to a new level this season. No qualified pitcher has thrown as hard as he has; his fastball average is up to 96.3 mph, and he has hit 98 on 39 different occasions — only one of which was turned into a hit. We often see pitchers increase velocity when moving from the rotation to the bullpen, but almost never in reverse, and 30 of Richards' 47 outings in 2013 came in relief. Across the board, the pitches are getting to the plate faster, and that can help make up for other issues.
2. He's showing a different angle: In three years of college ball (at the University of Oklahoma), Richards never had an ERA below 6.00. He once admitted that though he could throw hard, it was straight and belt-high, and he didn't use his secondary pitches. Even college hitters can time a fastball when it's all the pitcher has. Understanding that pitching is about deception and variety, as well as velocity, Richards has moved from the extreme right side of the rubber toward first base, thereby giving hitters a new look.
3. He's pitching smarter to limit platoon issues: As noted above, Richards has actually been walking more batters this year than he did last year, but that doesn't mean he has no idea where the ball is going. That is, he can still command his pitches well enough to execute a game plan. In 2012, lefties hit .314/.418/.482 off him; in 2013, the line was .276/.341/.410. And this year? Suddenly the slash line is down to .193/.267/.269, and while everything noted above plays a role in that, it's not just about throwing pitches harder or more often. It's about placement. As you can see in the heat maps below, Richards' slider placement against lefties has changed considerably, from all over the zone last year to a much tighter, much lower concentration this year: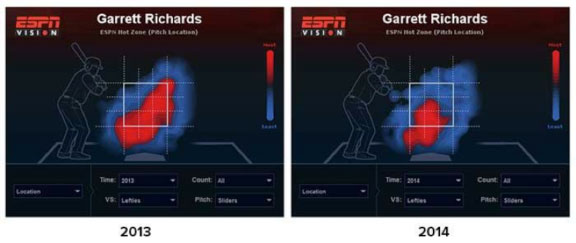 Richards has thrown a slider to a lefty 250 times this season. Only six times has it turned into a base hit, which makes it one of his more effective weapons and has helped him all but eliminate the platoon splits he had shown previously.
Richards' shouldn't be expected to maintain this kind of production all season. He has never been a starter for a full season before, and his .264 BABIP is artificially low. He also has allowed a very low 0.29 HR/9 rate. We can reasonably expect that some regression might be coming … but perhaps not as much as one might think. The new Richards is one of just 23 pitchers with a ground ball rate above 50 percent, and within that group, only Felix Hernandez, his Saturday opponent, boasts a higher strikeout rate. Strikeouts and grounders are pretty much the two best results a pitcher can hope for, and any time we can look at a young pitcher and point to real reasons for his improvement, it's a positive sign that his success is here to stay.
Print This Post
---