In 2012, absolutely nothing went right for an injury-riddled Boston Red Sox team, which lost 93 games and finished in last place in the AL East. In 2013, absolutely everything went right — rebound seasons, unexpected health — as they won their third World Series title in a decade. With most of the championship roster returning in 2014 (minus a key contributor or two), plus a full season from top prospect Xander Bogaerts and the exciting potential of a Grady Sizemorecomeback, the Red Sox seemed positioned to contend again.
Instead? Through 50 games, the 2014 squad was actually five games behind the pace of the 2012 disaster. Through Thursday, the Red Sox were in fourth place, eight games behind theToronto Blue Jays. Maybe this won't be their year, but there's no indication that the Red Sox are ready to pack it in, as evidenced by last week's move to bring back Stephen Drew. Unlike what's happening in Texas, this isn't an injury-fueled disaster that can't be overcome, and despite how impressive the Jays have been, the AL East looks to be as weak as it has been in years.
If the Red Sox can merely get some of their bats to bounce back to long-established career norms, and possibly figure out what's ailing Clay Buchholz (easier said than done, of course), this is still a talented team that can contend.
Well, except for the outfield, which absolutely cannot go on as it is.
Sizemore has been healthy but unproductive; Shane Victorino has missed time with two hamstring injuries in two months;Jackie Bradley Jr. is on his way to showing for the second year in a row that he isn't ready to be in the big leagues. We could merely say the Red Sox outfield has been horrible, but it's probably more educational to show by just how much, using wRC+: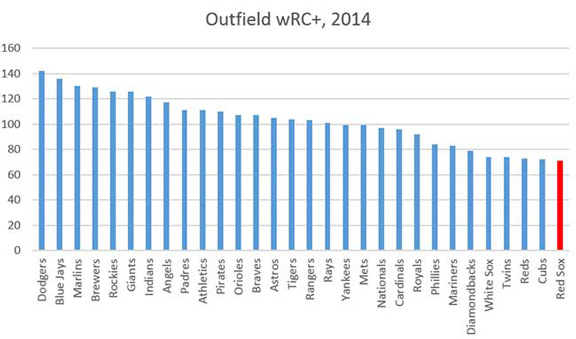 ESPN
If the Red Sox are to turn their season around, they are going to need to fix that outfield. But what can they do? Fortunately, they have options.
The "Where Does Anyone Go When They Need an Outfielder" option
Need an outfielder? Look to the Los Angeles Dodgers, who have so many that they can't even get top prospect Joc Pederson and his .340/.448/.629 line out of Triple-A. Yasiel Puig isn't going anywhere, no one wants a return engagement in Boston for Carl Crawford, and Matt Kemp's injuries and contract probably make him untradeable. That leaves Andre Ethier.
Not that this is a new idea, of course; Ethier's friendship with college teammate Dustin Pedroiaand occasionally testy relationship with Dodger management have put him squarely in Red Sox trade rumors for most of the past five years or so. While Ethier has recently taken over center field from Kemp, the presence of Pederson behind him hardly means that he's irreplaceable, though his contract — $53.5M guaranteed from 2015 to 2017, plus the remainder of this year's $15.5M — and his absolute inability to hit lefty pitching lower his value considerably.
To merely look at Ethier's season line, his 107 wRC+ would indicate a career-worst year, but that's somewhat misleading. The notoriously streaky Ethier suffered through a tough April (78 wRC+) but has been red-hot in May (140 wRC+), while shocking most by proving he's at least passable defensively in center field.
He is all but unplayable against lefties, though he still mashes righties; since 2010, his 149 wRC+ against righties is better than that of Joe Mauer, Ryan Braun and Carlos Gonzalez. The Dodgers would need to eat some of the contract, and they couldn't be expecting elite talent in return. The imperfect Ethier would immediately be Boston's best outfielder.
Likelihood: Moderate. The Dodgers are going to trade an outfielder at some point, even with Crawford injured, but anything this obvious rarely actually happens, and the Sox found great success back in 2012 by dumping an overpriced outfielder on the Dodgers (Crawford), not taking one on.
The "Let's Make a Huge Splash Because We Can" option
Based on the team's history of trading young stars before they become expensive, just about no one believes theMiami Marlins are going to be able to retain Giancarlo Stanton past 2016, when he'll become a free agent headed into his age-27 season. But the list of trade suitors could be smaller than expected, because any interested party would need to satisfy the Marlins' high demands for prospects (sorry, New York Yankees), be able to afford to pay Stanton now and in the future (sorry, Pittsburgh Pirates), be in a position to win soon (sorry, Chicago Cubs), and have a need for an outfielder (sorry, Dodgers and Angels).
The Red Sox fit all those criteria, and Stanton is off to another fantastic start, trailing only Troy Tulowitzki in WAR to date, and positioning himself as a legitimate MVP candidate. (The idea of Stanton targeting the Green Monster is more than a little appealing.) The main problem here: Miami is playing surprisingly well, sitting in second place in the NL East, and won't give up Stanton unless the team completely falls apart. It will be difficult for them to survive with Jose Fernandezgone and Henderson Alvarez hurting, but this may be more of a long-term project for Boston.
Likelihood: Low (in 2014), favorable (after 2014).
The "Small Improvement That Won't Sell Tickets but Makes Sense" option
Most likely, the team will go for minor improvements, hoping that Victorino and Daniel Nava can provide a semblance of what they did last year, and even though many teams aren't ready to send away talent in early June, that doesn't mean there aren't options out there. Seth Smith, one of the major's foremost lefty platoon bats, is off to a raging start for the fading Padres and would be an improvement over Nava as Jonny Gomes' platoon partner.
But what the Red Sox really need is someone who can handle center, which Smith can't. One intriguing possibility may be Colorado's Corey Dickerson, who has hit well in his limited major league career (118 wRC+) but has been diminished in Denver thanks to the breakout of Charlie Blackmon. Boston could also look south to the collapsing New York Mets, who have Juan Lagares, an elite defensive center fielder who is showing some life at the plate despite a manager who doesn't seem to appreciate him; or to Seattle, and Michael Saunders, a quality right fielder and league-average bat who could spot in center until Victorino or Bradley is capable.
Likelihood: High. The Red Sox have to do something other than wait, and while second base prospect Mookie Betts has recently begun playing center in Double-A, it's unfair to expect him to come up immediately and be the savior after just a few games at his new position, although he did play there in high school.
Print This Post
---