Stop me if you've heard this one before: Rick Porcello is on the verge of having a big season this year. That's a statement that seemingly pops up every year, most notably last spring, when Porcello was doing his best to disprove the long-held theory that spring training stats don't matter by striking out 21 without walking a single batter.
Yet the anticipated breakout didn't quite happen, not when Porcello put up an ERA north of 4.30 for the fourth straight year and was the subject of trade rumors this offseason.
So what makes this year different? Here are three reasons:
1. He already did break out, mostly
A 4.32 ERA may not seem like the hallmark of a pitcher who just had a good year, but that's focusing on the wrong thing. ERA (over a full season, anyway) isn't quite as misleading of a stat as the completely useless pitcher win is, but it can get skewed badly based on a bad game or two. That happened to Porcello last April, when after not having started for 10 days, he allowed nine earned runs to the Angels in 2/3 of an inning. That sent his ERA all the way up to 11.08, and it took him until July to get that mark below 5.00 for good.
That's a whole lot of weeks with an ugly number next to his name on the television broadcasts, but it's also not particularly fair. Porcello allowed three runs or fewer in seven of his next eight starts; from the disaster against the Angels through the rest of the season, his ERA was a much more impressive 3.79 in 28 games. Looking at FIP (3.53) and xFIP (3.19) instead, we can see that Porcello's performance has been improving steadily for years, moving from below-average in 2010 and 2011 to considerably above-average last year.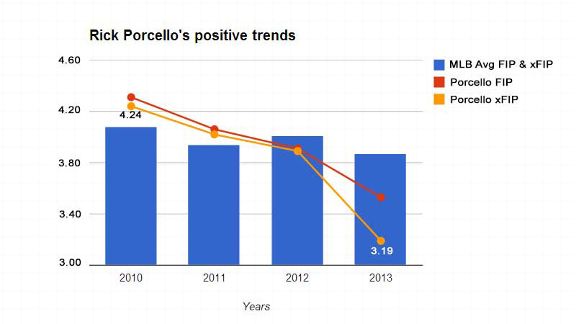 Wondering just how impressive a 3.19 xFIP is? The three pitchers ahead of Porcello by that metric were Jose Fernandez, Stephen Strasburg and Max Scherzer; the three behind him were David Price, Hisashi Iwakuma and Madison Bumgarner. By that measure, Porcello has already "broken out," thanks in no small part to annual improvements in missing bats (his strikeout percentage has increased every year, from 12 percent in 2010 to 19.3 percent in 2013) while keeping his walk and homer rates steady as he threw his sinker less.
From that perspective, there's not a lot of room left for improvement, since those numbers are already excellent. But while the advanced metrics like him quite a bit, ranking highly in xFIP isn't exactly the same thing as keeping runs off the board in the real world, and of the 26 pitchers with an xFIP of 3.50 or lower, only one had an ERA higher than Porcello (Jeff Samardzija). Until that number drops, he won't be seen as being an upper echelon pitcher.
So how does he convert great peripherals into better run prevention? Fortunately for him, a big part of that has nothing to do with him at all.
2. The infield should help him out more …
On that list of sub-3.50 xFIP pitchers, only A.J. Burnett had a higher ground-ball percentage than Porcello's 56.3, and Burnett played in front of a Pittsburgh defense that prided itself on converting ground balls into outs with the use of aggressive infield shifts.
Porcello certainly enjoyed the run support of Miguel Cabrera and Prince Fielder, but much less so their lackluster defense, particularly when Cabrera's late-season injuries rendered him all but unplayable with the glove. Among the 17 starters who suffered the highest BABIP, four were Tigers, thanks largely to the fact that Fielder, Cabrera and second baseman Omar Infante were all seen as negative influences by defensive runs saved. (Cabrera and Fielder each ranked as the worst at their positions, and other Tigers hurlers were spared a lot of the damage by the fact that they specialize in strikeouts.)
With Fielder, Infante and shortstop Jhonny Peralta all moving on, the 2014 Detroit infield won't return a single starter at the same position. New second baseman Ian Kinsler (30 DRS over the last three years) should be a better fielder than Infante (6), and although Peralta was better than advertised at short, young Jose Iglesias exists almost entirely because of his stellar glove. Rookie third baseman Nick Castellanos brings his own defensive questions at third, but it's inconceivable that he won't improve on Cabrera, who in turn is a better first baseman than Fielder.
All around, the new Tiger infield should eat up more grounders than last year's did, and while that helps every pitcher, it will especially benefit a ground ball artist such as Porcello.
3. … and so should the bullpen, hopefully
One of the multiple issues with ERA is that it can rely heavily on the other members of the pitching staff. If a starter leaves with a shutout going but with the bases loaded, whether or not he ends up with multiple runs on his ledger — and affecting his ERA — or nothing but zeroes depends on how the reliever performs. Since the starter is out of the equation at that point, it makes ERA a less effective way to measure individual performance.
That was a particular issue for Porcello in 2013. Of the 157 pitchers in baseball who left at least 10 runners on base for their bullpens to clean up, only Colorado's Juan Nicasio (13) suffered more runs scored than Porcello's 12. On a percentage basis, that's 57.1 percent of Porcello's bequeathed runners coming around to hurt his ERA, seventh-most of those 157. If none of those runs had come in, suddenly his ERA is all the way down to 3.71.
That hurt him badly, but before we jump to conclusions and blame the Detroit relievers too heavily, it's important to note that Porcello's Tiger teammate Anibal Sanchez had the best bullpen support of anyone in baseball. Despite handing the ball to most of the same pitchers, of Sanchez' 13 bequeathed runners, not a single one came in. Overall, the Tiger bullpen allowed 28 percent of inherited runners to score, slightly better than the MLB average of 29 percent.
The expected improvement here is less about the fact that Joe Nathan is a nice addition and more about the fact that there's little year-to-year consistency in strand rates. Looking back to 2012, Porcello actually received outstanding support — only two of his 24 bequeathed runners came home — while Sanchez got killed by it, seeing 13 of his 21 runners come home. (Sanchez did spend part of that year in Miami before being traded.) A simple regression back to some kind of normalcy, as opposed to an extreme, ought to help Porcello's run prevention.
Though it seems as though he's been around forever, Porcello turned 25 in December, and one recent projection named him as the starter least likely to land on the disabled list. For years, Detroit has been waiting for him to take that next step, and it's easy to argue we already saw that last year. This is the year his ERA catches up, and Porcello starts getting talked about in a different light.
Print This Post
---