Despite having the best player in baseball and a resurgent Albert Pujols, the Los Angeles Angels are off to a disappointing 11-12 start, failing to take advantage of spring injuries to Texas and Oakland that seemingly had opened a window of opportunity. Even with all their big contracts, the Angels haven't been more than a single game over .500 since the end of 2012.
Thanks to the otherworldly performance of Mike Trout, along with Pujols, Howie Kendrick and friends, the problem hasn't been the offense, but rather a pitching staff that ranks in the bottom half in ERA, FIP and xFIP. Not that this is necessarily a surprise, of course; the Angels' pitching staff was a big problem last year, and even with the additions of Hector Santiago, Tyler Skaggsand Joe Smith, it was expected to still be a weakness this year, too.
There are more than a few reasons why that is — Jered Weaver's declining velocity and sudden homer problem chief among them — but here's one that may not be immediately obvious when watching the games: The Angels' pitchers throw fewer first-pitch strikes than any other team in baseball. In fact, since data first became available back in 2002, this particular Angels team has thrown fewer first-pitch strikes (52.8 percent) than any other team on record.

Making a good first impression
OPS after counts, 2009-13
COUNT
OPS
1-0
.852
2-0
1.023
3-0
1.253
0-1
.629
1-1
.706
2-1
.833
3-1
1.090
0-2
.461
1-2
.519
2-2
.618
Why does the lack of first-pitch strikes matter, you might ask? It actually matters quite a bit, because the difference between starting out 0-1 or 1-0 is huge for a pitcher. Between 2009-13, five full seasons worth of data, major league hitters who started off the count with a ball ended up hitting .278/.395/.456 (see table). When the first pitch was a strike, the averages sink to .232/.275/.354 for the remainder of the at-bat.
Look at the huge difference in those numbers: That's 120 points of on-base percentage and 102 points of slugging percentage. Those two lines are basically the difference between the 2013 versions of Matt Carpenter (fourth in the NL MVP race) and Vernon Wells (currently unemployed). Whether or not the first pitch becomes a ball or a strike is just so, so important, and it cascades through the plate appearance.
After 0-1, pitchers are 5.25 times as likely to get a strikeout as they are to issue a walk. When pitchers fall behind 1-0, their strikeout-to-walk ratio falls to 0.90, which means a walk was more likely than a strikeout. There's almost nothing a pitcher can do on the mound to improve his chances of success more than to throw a strike on the first pitch.
Intuitively, that makes sense. From a young age, pitchers are taught to get ahead in the count. This is one of those cases in which the common narrative and the statistical truth intertwine well. The worse a pitcher does on the first pitch, the worse he'll generally do in the plate appearance.
A unique approach in Anaheim
The Angels, on the other hand, have gone against that logic more than any other team we've seen in years. As of Saturday, four of the seven starters who throw the fewest first-pitch strikes play for the Angels. Expand that to include Skaggs at No. 15 and that's the entire Los Angeles rotation.
When that's sorted out by game, we can see that two of the four individual starts in which a pitcher's first pitch was least likely to be in the PITCHf/x zone — not necessarily called a strike — belong to the Angels. On April 1, C.J. Wilson threw only three 0-0 pitches in the zone against the Mariners; the six runs he allowed that day equal his total in three starts since.
Weaver did the same against the Mets on April 12; he walked a season-high four that day and landed only 50 of his 99 pitches for strikes. It's the continuation of a trend for him; his ERA has risen steadily since 2011 (2.41 to 2.81 to 3.27 to 4.11), and his first-pitch strikes have fallen in tandem (64.7 percent to 61.7 to 59.9 to 48.8).
We can see how this affects a team's performance. Since 2002, there have been 390 team seasons. Let's chart out the relationship between first-pitch strike percentage and staff ERA.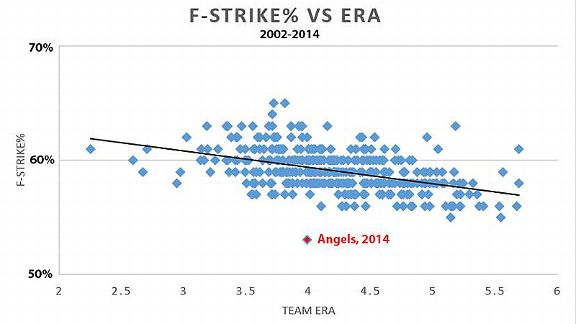 ESPN Stats & Info
With the exception of a few outliers here and there, the trend is clear. The fewer first-pitch strikes a pitching staff throws, the more runs they tend to allow.
Though the Angels are clearly at the bottom of the first-pitch strike group, they rank in the middle of the pack here in run prevention. That's partially because the Angels' defense has been outstanding, and because the pitchers allow more fly balls than anyone else (Trout, J.B. Shuck, Collin Cowgill and Kole Calhoun have made for an excellent defensive outfield). They can't count on keeping that up, however. Weaver isn't going to maintain a .221 BABIP all season long, and Garrett Richards won't maintain his .217 BABIP, which is how he has a 2.52 ERA despite 5.04 walks per nine innings. To compensate, more first-pitch strikes are crucial.
Low-risk endeavor
The elephant in the room is this: When batters swing at the first pitch, they're generally successful. They know pitchers want to get ahead, and that more than likely they'll see a fastball on the initial pitch. (Last year 52.7 percent of first pitches were fastballs, compared to 46.7 percent on every other count.) Over the past five years, hitters have hit .339/.345/.558 on 0-0 counts. That would seem to present an argument for the Angels staying away from the zone on the first pitch.
But in reality, hitters swinging at the first pitch happens less often than you'd think. Just as pitchers are trained to get ahead in the count, batters are trained to be patient, to wait for their pitch. They want to get a good look at the pitcher's repertoire, or inflate his pitch count and get into the bullpen, or allow a runner on base the chance to steal.
The numbers bear this out. In 2013, there were 185,296 pitches thrown with a 0-0 count, and 73.1 percent of those pitches resulted in a batter watching it go by. Even more pitches — 88 percent — did not end up being put into play, having been either taken, fouled away, not connected with or being a hit by pitch. That number drops to a mere 57.2 percent on all other pitches of the at-bat. Batters just don't swing at first pitches nearly as often as they do all other pitches.
Where the first pitch lands isn't the only reason the Angels' pitching staff has issues. But it's a very real reason, one that makes it difficult for them to overcome if it doesn't improve.
Print This Post
---