Let's be resoundingly clear about one thing: George Springer has been everything the Houston Astros could have hoped for and more. His .240/.346/.469 slash line is good for a 127 wRC+, which means that he has been 27 percent more productive on offense than a league-average hitter. It puts him among the top-40 marks in the game, and he's all but certain to smash Lance Berkman's team record for homers by a rookie (21 in 2000).
The Astros have rebounded from a wretched start to play close to .500 ball over the past two months, and Springer's contribution is a huge reason why. In fact, only the performances of both Masahiro Tanaka and Jose Abreu will keep him from being the obvious AL Rookie of the Year award recipient this fall.
Given his plus speed — he stole 77 bases in the minors in 2012 and 2013 — and center-field-quality defense, Springer can provide considerable value in other ways than just at the plate. And yet it's difficult to shake the feeling that because of all the incredible things he has done in his short time in the big leagues, we're willfully turning a blind eye to the one thing he's really, really bad at, which happens to be quite important: making contact with the baseball.
So the question must be asked: Will Springer's contact issues ultimately make him merely a good player rather than a great one?
Numbers don't lie
First, the raw numbers. As of Thursday morning, Springer has struck out 98 times in just fewer than 300 plate appearances, which yields a huge 33 percent rate. To use a completely unfair comparison, he's already nearly a quarter of the way to matching the number of times Tony Gwynn struck out over two combined decades of play. Springer isn't Gwynn, obviously, but even within the context of today's whiff-happy game, he still stands out.
Dating back to 2002, when the contact-rate stat was first kept, there have been exactly zero players who have ever put up a qualified season with a contact rate lower than Springer's 61.3 percent. The next-three-lowest marks all belong to Mark Reynolds, who had a brief stint as an elite power hitter but had only one season with more than a 1.7 WAR, then two seasons by Springer's Houston teammate, Chris Carter, who is hitting .181 and might soon be looking for new employment. While you'll see a Josh Hamilton or Jim Thome pop up on the list, it's extremely difficult to do what Springer has been doing and sustain a star-level career over a number of years.
Contact doesn't automatically equate to success, of course, as many low-offense, speedy types will tell you. But it's not exactly a rookie finding his way in his first trip around the bigs, either. In his minor league career, Springer struck out 26.4 percent of the time, which is just as scary. Playing in places such as Lancaster, California., and Corpus Christi, Texas, Springer was swinging and missing more often than all but a handful of big leaguers are this season, and they have to face the best pitching in the world. And in his first three months in the big leagues, Springer's highest strikeout rate came in his most recent month; he posted a whopping 35.1 percent mark in June. His 39 strikeouts during the month are the highest number any big leaguer has had in a month this season.
Obviously, the contact issues aren't coming as a surprise. As his track record indicates, this is just the kind of player he is, and he does enough other good things to take some of the focus off his strikeouts. As players such as Hamilton and Giancarlo Stanton have shown, you can strike out a lot and still be successful. But Springer is having contact trouble to a degree we've rarely seen, and the problem is that pitchers are learning more about him. As they see his weaknesses — and they aren't hard to find — he doesn't exactly have a lot of flexibility to strike out more than he already is.
Where to attack him
Springer is not an undisciplined hacker; his swing percentage of 48.0 is merely the 39th-highest mark in baseball, and that 23.6 percent of his swings come at balls outside the strike zone is fairly unremarkable, below the MLB average. That helps Springer maintain an 11.4 walk percentage, which is actually quite good.
Here's the thing, though: When Springer does swing at a pitch outside the zone, there's no one in baseball less likely to connect with it, and it's not even close.
Of course, there's a theoretical argument to be made that not making contact with a poor pitch allows Springer to still be batting when a better pitch comes along, rather than potentially making weak contact outside the zone. But that hasn't really played out, as the 209 times that he's swung and missed, only 12 times has the plate appearance ended with a hit.
It's not hard to see where pitchers are realizing the hole in Springer's game is. As the wonderfulBaseballSavant makes clear, if you're looking to get Springer to swing and miss, throw him something low and away: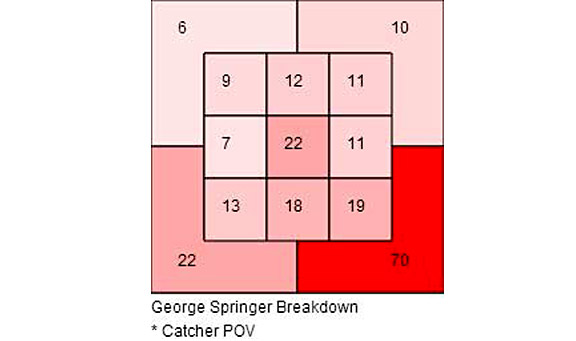 On pitches to the lower-right quadrant of the strike zone and the lower quarter of the outside zone, Springer is hitting only .171. His issues particularly have come against sliders; he has swung at slightly more than half of the sliders he has seen this year — no matter where they are — and has missed half of them.
Outlook
Springer is still a rookie, obviously, and rookies can improve. It's probably important to remember, though, that as a college draftee, he's older than you might think he is. He turns 25 in September, which means he's older than established stars such as Stanton, Mike Trout, Bryce Harper, Yasiel Puig and teammate Jose Altuve, in some cases by several years. He still has time to adjust to pitchers once they adjust to him, but he's a lot more established in his ways than his rookie status might indicate.
As we've learned over the past decade or so, strikeouts aren't the absolutely unacceptable outcome they once were, and that change in mindset is one of the reasons the whiff rate in baseball keeps increasing. As long as strikeouts are accompanied by enough additional production, it doesn't matter so much whether a hitter's outs come via whiff or grounder or anything else. It's just that there's a limit to how much production you can offer when you're not touching the ball 40 percent of the time you swing. Springer's power and other obvious talents will keep him in the big leagues, of course. It just might keep him from being an elite star.
Print This Post
---