After batting .296 with 59 stolen bases and 11 home runs in 2004, it was looking like Carl Crawford was well on his way to becoming one of the best offensive players in baseball. During the first two months of the 2005 season he bat only .266, but for the remaining four months of the season he bat .320 with 32 stolen bases and 12 home runs, giving him his best major league season to date. Now that the cat's totally out of the bag, let's see if there's any reason to doubt him.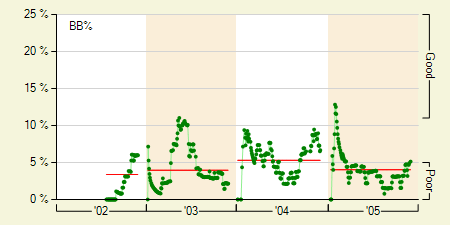 If it isn't the old walks-per-nine-innings rate (BB/9) graph. With only 27 walks in just under 700 plate appearances, it's safe to say that he really likes to swing the bat. He swings at about 30% out of the strike zone, which is really getting up there. This is where I'd usually go into a rant about how he needs to walk more to continue his success, but not today.
It's tough to take a walk when you don't see many pitches outside the strike zone. About 58% of the pitches Crawford saw were strikes, which ranks him in the top 10% in percentage of strikes seen. In games when he saw more than 50% strikes, he walked a healthy 10% of the time and bat .293. When he saw less than 50% strikes, he only walked 2% of the time and bat .310. He can clearly make adjustments if necessary.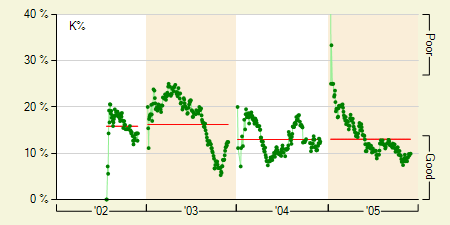 With that sorted out, it's also worth mentioning that he rarely strikes out but doesn't make great contact with the ball either. It'd really be a mistake to call him a contact hitter. Combine that with his two-year rise in Isolated Power (ISO), and you're looking at a player that could definitely hit an additional five or so home runs.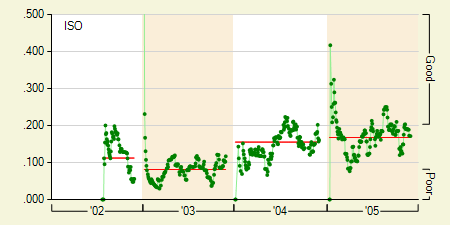 It will be interesting to see if pitchers decide to keep the ball out of the strike zone a little more with Carl Crawford. He certainly poses a dilemma for most pitchers since you don't want to walk him because of his speed, but it's clear that if you hang around the strike zone, he's going to get on base anyway. If pitchers do become a little more cautious with him, he should see a rise in walks, with a slight decrease in batting average. Either way, I wouldn't doubt him.
Print This Post