In what was a surprise move to me, the Rangers sent Chris Young, Adrian Gonzalez, and Terrmel Sledge to the Padres for Adam Eaton, Akinori Otsuka, and a minor leaguer. In Young's first full season in the majors he posted a 12-7 record with a 4.26 ERA and a good strikeout-to-walk ratio (K/BB) of 3.06. Not too shabby considering he played in one of most hitter-friendly parks in baseball. Now that he'll be moving to the pitcher's haven, Petco Park, what should we expect from Young in his second full year in the majors?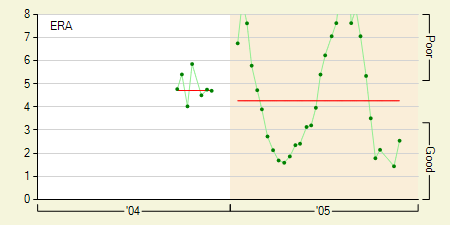 Looking at his ERA, he was really on quite the roller coaster ride. Early in the year Young was looking like an AL Rookie of the Year candidate as he started off going 5-1 with a 2.93 ERA. In June and July things got a little hairy as his ERA rose to an awful 6.19. Then he had a strong final two months of the season, going 4-1 with a 3.62 ERA. Most of the increase in ERA towards the middle of the season can be explained by a brief period of time when Young experienced a "tired arm." This "tired arm" period becomes evident by looking at the major spike in his home runs per nine innings (HR/9).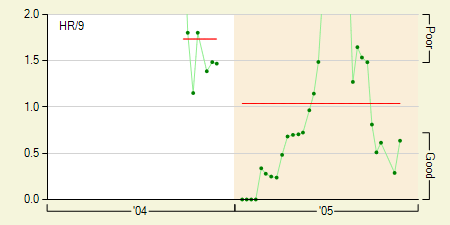 In just over a one-month period he allowed 12 of his 19 home runs for the season, bringing his HR/9 to a horrible 2.65. Despite this one-month period, Young's home runs-per-fly ball (HR/FB) remained extremely low for the year as only 7.7% of his fly balls became home runs. If you take away that one month home run derby, then only 4% of his fly balls became home runs.
That's pretty amazing considering on average in Ameriquest Field, right-handed pitchers' fly balls became home runs nearly 14% of the time. Young is lucky he kept his HR/9 below the league average since he has the third-highest fly-ball percentage in baseball.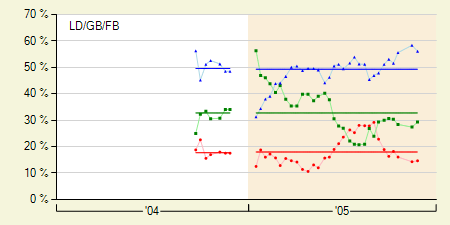 Despite Young's good strikeout-to-walk ratio, if he were to continue playing at Ameriquest Field I'd say he'd have a similar 2005 season, as it would be hard for him to continue to limit his home runs considering his fly-ball tendencies. This however is not the case as he'll now be playing in a park where an extreme fly-ball pitcher should thrive.
One thing to note is Young won't get the same kind of run support playing for the Padres as he did for the Rangers. In 2005 he had the third-most run support per inning of any player in baseball. If he can remain healthy, I'd expect Young to definitely improve upon his 2005 ERA, but he may find wins harder to come by.
Print This Post