Coco Crisp
The Red Sox and Indians are apparently close to completing a deal that will send Coco Crisp and David Riske to Boston in exchange for Andy Marte, Guillermo Mota and Kelly Shoppach. The past two seasons Coco Crisp has been quite good, batting essentially .300 with a combined 31 home runs and 35 stolen bases. Consider it the two-year approach to 30/30. (Hey, not everyone can do it in one year!) He also managed to rack up 42 doubles in 2005, which puts him 18th on the leaderboard. Assuming this trade gets completed, let's see how he'll do in Fenway next season.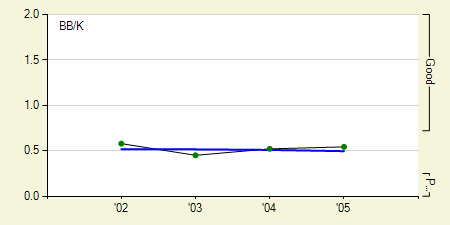 His walk-to-strikeout ratio (BB/K) isn't too shabby, as it climbed to just above league average last year. His problem isn't so much striking out, as he only does so 13% of the time (which is good), but he doesn't walk all that often. Essentially he puts the ball in play a lot, which isn't necessarily a bad thing considering his fairly high batting average on balls in play (BABIP) of .326. Furthermore, it looks like his BABIP is really starting to settle in around .325, so I wouldn't consider either his 2004 or 2005 season lucky.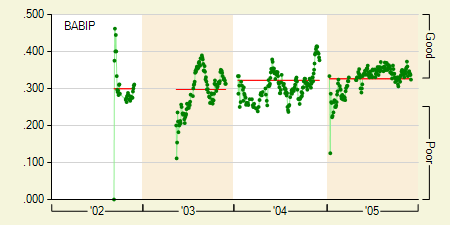 Being a switch hitter, he was much better batting left-handed in 2005, but historically he's been better batting right-handed. I'm not entirely sure what's going on with that, but looking at his PitchZone chart, you'll see that he just couldn't muster a hit with balls up-and-in or down-and-in when batting right-handed. Batting left-handed, he has some trouble handling pitches down in the zone. In general, it looks like he prefers pitches up in the zone and as a result, he has a tendency to chase high fastballs. Other than that, there's not really any glaring weakness that I can see.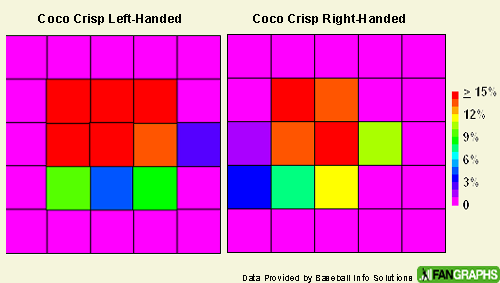 If Coco Crisp walked a little more he'd be the perfect replacement for Johnny Damon, since he'd be able to bat leadoff too. Either way, he's a good bet to bat .300 again, but don't expect many stolen bases; the Red Sox were second to last in stolen base attempts. In the home run department, his isolated power has been on a two-year rise, so he should be good for at least 15 home runs, possibly closer to 20. I really like Coco Crisp, and at only 27 years old, I think he'll continue to get even better.
---
Ted Lilly
The past three seasons I've ended up having Ted Lilly in my fantasy league roster. How has he rewarded my loyalty (stupidity)? With nothing but disappointment and a firm place on my bench. (Sometimes he was kicked off the bench.) Anyway, he has agreed to a one-year, $4 million contract with the Blue Jays after an injury-ridden 2005 season. Between his trips to the DL (shoulder & bicep tendinitis), he went 10-11 with a 5.56 ERA. Let's see if there may be better days ahead for the oft-injured lefty.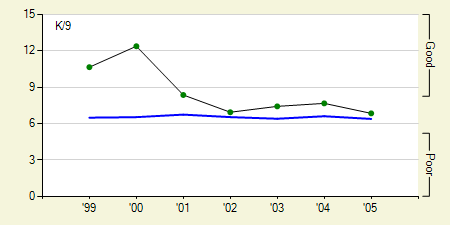 The good news is he can still strike people out a decent amount. His strikeouts-per-nine-innings rate (K/9) of 6.84 isn't too shabby for a starting pitcher. He was even able to rack up two eight-strikeout and one 10-strikeout performance in 2005. If healthy, hopefully we'll see a few more of those, which would bump his K/9 over 7.00, like it was in 2003 and 2004.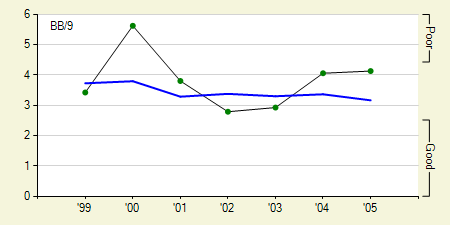 His walks-per-nine-innings rate (BB/9) over the past two seasons leaves much to be desired, but his 2001 and 2002 numbers do give us a glimpse of what he's capable of. I'm sure his injuries played a part in his increased BB/9. Combine all those free base runners with his elevated home runs-per-nine-innings rate (HR/9), and you've got a recipe for disaster, hence the ERA well over 5.00.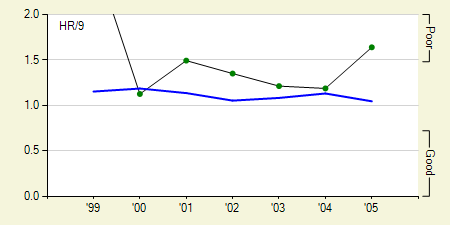 His HR/9 should be a little better next season, since his home runs-per-fly ball rate (HR/FB) of 13% should regress back towards the 11% league average a bit. It's probably unrealistic, however, to expect him to suddenly have a good HR/9 since he's never had one and he's nearly an extreme flyball pitcher.
If Ted Lilly could pitch an injury-free season (and right now that's a big if), I'd say you'd be looking at a quality pitcher with 15-win, sub-4.00 ERA potential. His strikeouts are just fine, and he has age on his side as far as walks go since pitchers tend to walk fewer batters as they get older. Even if he's not 100%, it's unlikely he'll do as poorly as last season. Knowing me, I'll probably take a chance on Lilly once again, and I can only hope the fourth times a charm.
How a person can be a hero by being a zero.
Print This Post