This morning while in search of inspiration for my column, I began scanning MDC's ADP list. As I was looking up and down, I stumbled across an interesting segment of the list. Bunched together in the slots from 177–184 lie seven players who are either not long removed from being studs or trendy breakout candidates, along with a solid, reliable, underrated cog, and one of the most popular sleepers among readers of this column. Who are these masked men?
177. Adrian Beltre
178. Scott Kazmir
179. David Price
180. Rickie Weeks
181. Ted Lilly
182. Vernon Wells
184. Corey Hart
I found all of these players interesting, and I think it's fair to say that some of these players, if acquired for their listed price, will turn out to be great picks. Let's turn to each briefly.
Adrian Beltre: Beltre was once perceived by some to be a stud. Some owners reaped the unexpected gift of his 2004 season. Getting that season out of Beltre was probably roughly akin to finding a suitcase full of hundred dollar bills while walking the dog. The following year, Beltre flopped. It was like Raekwon the Chef following Only Built 4 Cuban Linx with Immobilarity, except in reverse because with Beltre we all felt in our heart of hearts that the woefully inferior version was his true self.
(Alright, look, I've gotten to know you guys for a while and you're just going to have to accept that I'm going to make hip-hop references. Fantasy columnists make lame references to indie rock, or even classic rock, all the time, and I presume they don't feel self-conscious about it or feel the need to address their readership about it. The fact that I feel this way about my preferred musical genre is actually grounds for a sociological discussion that's a lot more interesting than fantasy baseball is, but that's not why you guys come here, so I'm going to walk away.)
Anyway, lots of people like Beltre this year, and I'm one of them. I think he's a lock to exceed his ADP because he fits the prototype who gets dramatically helped by Fenway. He's a right-handed pull hitter with above average, but not elite level, power. He'll also be hitting in a vastly improved line-up. Does anybody think that 28 HR, 95 RBIs, and 10 SB are not totally outside the realm of possibility? By the way, here are Beltre's 2009 batted balls at Safeco imposed on Fenway Park.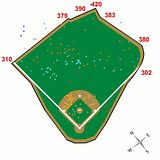 Scott Kazmir: Kazmir is among the game's most enigmatic phenoms of the past half-decade. He has absolutely dazzling stuff and a fairly modest ability to control it. Kazmir has an uncanny ability to miss bats, strike zones, and starts. He is a classic high-risk/high-reward player. Getting out of the AL East should help, but his health and consistency are always concerns. Still, I like rolling the dice on players like Kazmir. And, according to MDC, he's slipped as far as 215. If I'm feeling good about the front end of my staff, I'm willing to take a shot on a starting pitcher who has averaged more than a strikeout per inning for his career.
David Price: Kazmir's ex-rotation mate, David Price follows. After Price's impressive introduction to the world at the end of 2008, many viewed 2009 as a disappointment. But if we ignore the hype and expectations and look at the situation at face value, what we saw was a younger pitcher who made 23 starts to a 102 ERA+, and who dramatically improved his control and moderately upped his K-rate as the season progressed and he began to gain experience. Last year didn't do anything to make me think Price can't become the pitcher that many though he could after 2007. Really, what changed was the perceived certainty that such development would happen, and the confidence that it would occur immediately. There's definitely upside worth considering here.
Rickie Weeks: Weeks has enticed fantasy players for a while now. He has clear 20-20 potential, and if he could stay healthy for a whole season and post a decent batting average, he could approximate a down year from Brandon Phillips. It's rather noteworthy to think that if Weeks performs on the bright side of what can be reasonably expected, and Phillips performs on the bleak side of his, you could have two players of approximately the same production who are currently separated by 140 units of ADP.
Weeks looked like he may have been poised for a breakout last season before hurting his wrist and missing the all but the first month and a half of the season. However, it also seems increasingly likely that he's just not durable enough to be trusted to play anything approaching a full season. Weeks has fallen past pick 200 in many drafts. The bottom line is that at this price, you almost surely win if Weeks stays reasonably healthy and doesn't hit .230. That's not a bad proposition, and although he's not my favorite player among this group, if you could really use a 2B with 20-HR potential late in your draft, Weeks may be your most legitimate option.
Ted Lilly: Honestly, I love Ted Lilly. He's on target for a mid-April return, so missing time shouldn't be a major concern. Lilly doesn't necessarily have the upside of the other pitchers discussed here … or so it seems to be presumed. If Lilly hadn't gotten hurt last year, and had a bit better luck in terms of run support, he would have finished at a top-50 player. Frankly, over the past three seasons, there really hasn't been all that much separating Lilly and Josh Beckett. The fact that there are more than 100 units of ADP between them is much more a testament to the power of perception than to a stark qualitative difference in production. Perhaps the two biggest points in favor of Beckett are his age and the overall team behind him. I'd take Lilly before either Price or Kazmir. Quietly, his upside is legit, and he's done it before, fairly consistently.
Vernon Wells: I don't like Vernon Wells, I've been burnt by him, and reached the conclusion that he can't be trusted. But, like all players I can overcome my intuitive aversion to Wells given the right price point. Wells has slipped as far as 220th, according to MDC. As your fourth of fifth outfielder, or a flier bench guy, he's certainly worth a look. Though, if I'm looking strictly for production and not concerned with position, I'd be tempted to wait even longer and put my eggs in somebody like Paul Konerko's (ADP 203) basket; they're both potential batting average risks, but Konerko's power is more reliable.
Corey Hart: Coming in to 2008, Hart was pre-ranked somewhere in the fifties, if I recall correctly. He didn't step up his power though, and regressed in batting average and plate discipline. Still, Hart went 20/20 with 167 combined runs and RBIs, which is not so bad for a player available at fourth or fifth outfielder prices. Over the past two seasons, Nate McLlouth's resume isn't all that different, yet he costs twice what Hart does. Anybody who is interested in McLlouth at 90 would have to love Hart at 160–200, no?
It's hard to place these players in order of my preference, because at this point in the draft you are often filling either positional or categorical needs, so the player best among this group is the player that best complements your team. That said, I'd say that crudely, my favorite players among this group are Beltre, Lilly and Hart.
Print This Post