Bob Nightengale of USA Today is reporting that the Red Sox have offered Manny Ramirez to the Mets for Carlos Beltran. If this were to happen, talk about a blockbuster trade! Lets take a closer look at Carlos Beltran since he's coming off such a mediocre year.
There were three areas where he dropped off significantly: walks, power, and speed. The good news is it looks like he showed real improvement in his walk to strikeout ratio towards the end of the season. It's also worth noting that he was not striking out more than in previous seasons, it's that he was walking less.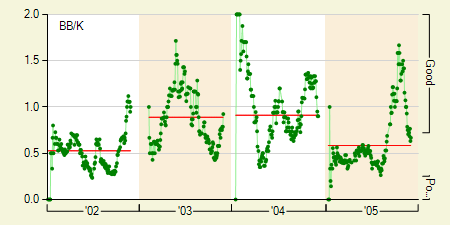 The bad news is, he never showed any spikes in power for the entire season.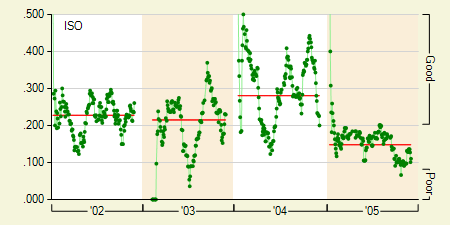 On 5/21 Carlos Beltran strained his right quadriceps. Then he aggravated the injury on 6/10. Finally he had his knee drained on 6/27. It's possible that this injury could have sapped his power. However, it is quite likely that this injury decreased his stolen base output. You can't accuse the Mets of holding him back either since they had the most stolen base attempts in the National League.
I think it's likely that this was just a down year for Carlos Beltran, especially with his lingering injuries. While I think it's doubtful he'll return to near 40 HR/ 40 SB form, there's a good chance that he'll rebound to at least his 2003 season.
Print This Post
---