While I was waiting for the White Sox to collapse (which never happened), Jose Contreras seemed to really figure things out by putting together 8 straight wins to finish out the season. Now usually I would take any success Jose Contreras has with a bit of skepticism. This time I think it has to be taken a little more seriously.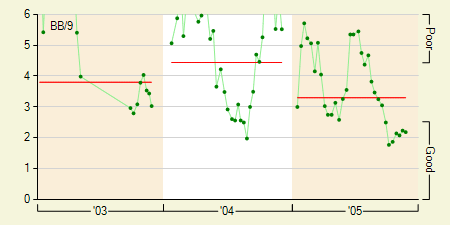 Taking a look at his walks per 9 innings graph, he looks to have turned a corner in his ability to throw strikes. He has been extremely inconsistent in the past but this is the lowest and longest he has kept his walks down which is extremely encouraging. The other good sign is that he seems to have learned to keep the ball in the park.
It might have taken a few years, but it seems like he is finally making good on the 4 year – $32 million dollar contract the Yankees originally gave him. With a healthy strikeout rate of around 7 K's per 9 innings, if Jose Contreras can continue to keep his walks down and the ball in the park there's no reason he won't be able to continue his success in the World Series, and next year.