Winning is expensive in 2014. According to the FanGraphs "Dollar" variable, players in the current market should be paid $5.4m per win they contribute. But, as is the case in such an unpredictable sport, many players are paid too much, and others outperform their pay.
Although baseball is hard to predict, the Steamer projections do an exceptional job forecasting hitter performance. Using these numbers, I want to give a brief preview of what players are expected to be the best bargains and the ones who will be the most egregiously overpaid for this upcoming season. However, I want to avoid making just another list of players who are getting paid a lot and won't play much (see Alex Rodriguez). Rather, for the overpaid players, I just want to look at guys who will play, but ineffectively. Therefore, I set a minimum at 300 projected plate appearances for each hitter.
The best and worst value players aren't any surprise. Mike Trout, the supposed best position player in 2014, is getting paid twice the league minimum. The highest paid position player who will play in 2014, Ryan Howard, is projected to perform like a replacement level player.
This chart illustrates what severe outliers these two are.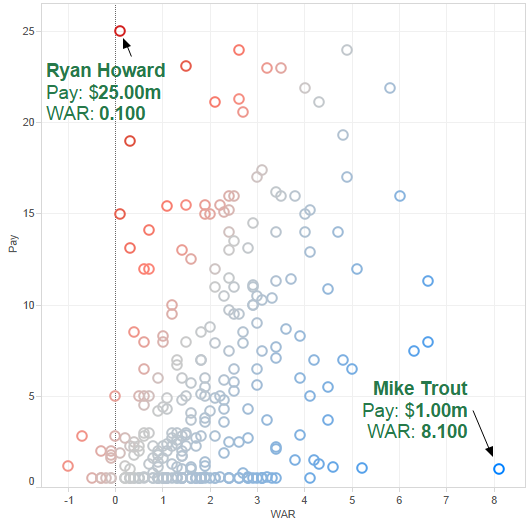 That's not groundbreaking or surprising. Instead of talking about how obviously overpaid and underpaid specific players are, I'll just present the list of the biggest cases.
1. Mike Trout
WAR: 8.1
Salary: $1m
Value: $42.7m
2. Evan Longoria
WAR: 6.6
Salary: $8m
Value: $27.6m
3. Paul Goldschmidt
WAR: 5.2
Salary: $1.1m
Value: $27m
4. Andrew McCutchen
WAR: 6.3
Salary: $7.5m
Value: $26.5m
5. Buster Posey
WAR: 6.6
Salary: $11.3m
Value: $24.3m
6. Andrelton Simmons
WAR: 4.6
Salary: $1.1m
Value: $23.7m
7. Matt Carpenter
WAR: 4.3
Salary: $1.3m
Value: $21.9m
8. Josh Donaldson
WAR: 4.1
Salary: $0.5m
Value: $21.6m
9. Salvador Perez
WAR: 4.2
Salary: $1.5m
Value: $21.2m
10. Yasiel Puig
WAR: 4.5
Salary: $3.7m
Value: $20.6m
This is certainly an exceptional group of players, and they got on this list for a few different reasons. For the most part, age and the renewal/arbitration system played a key role. The Rays' deal with Longoria is widely considered one of the most team friendly deals in history. Andrelton Simmons just came off one of the greatest fielding seasons of all time, and Salvador Perez has already been worth nearly 3x his salary this season. Also, in hilarious Billy Beane fashion, Josh Donaldson is somehow getting paid the league minimum.
The front offices who have these players are hopefully counting their blessings. Some aren't quite as lucky, though. Here are the 10 most overpaid players this year.
1. Ryan Howard
WAR: 0.1
Salary: $25m
Value: -$24.5m
2. Alfonso Soriano
WAR: 0.3
Salary: $19m
Value: -$17.4m
3. Mark Teixeira
WAR: 1.5
Salary: $23.1m
Value: -$15m
4. Adam Dunn
WAR: 0.1
Salary: $15m
Value: -$14.5m
5. Dan Uggla
WAR: 0.3
Salary: $13.1m
Value: -$11.5m
6. B.J. Upton
WAR: 0.7
Salary: $14.1m
Value: -$10.3m
7. Prince Fielder
WAR: 2.6
Salary: $24m
Value: -$10m
8. Carl Crawford
WAR: 2.1
Salary: $21.1m
Value: -$9.8m
9. Nick Markakis
WAR: 1.1
Salary: $15.4m
Value: -$9.5m
10. Victor Martinez
WAR: 0.6
Salary: $12m
Value: -$8.8m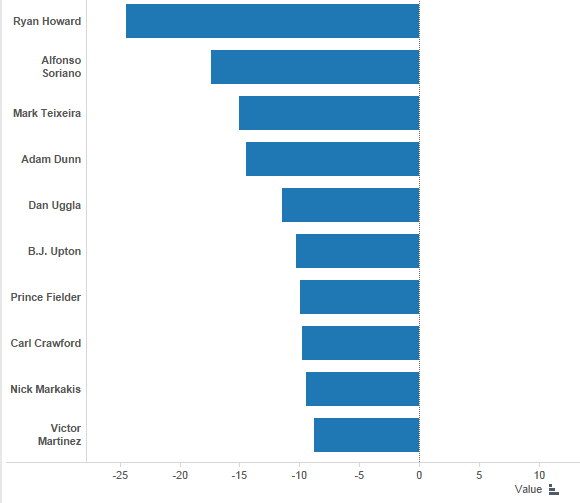 A pretty common trend exists here: big free agency signings who aren't expected to perform as well as they should this year. Prince Fielder is pretty easily the biggest surprise for me on this list, but a $24m first baseman really does need to hit remarkably well to be worth that. Derek Jeter, getting paid $12m and expected to get a WAR of 0.7, just missed the list at 11th.
Overall, young guys are more likely to be underpaid, and older guys are more likely to be overpaid, almost entirely due to the league's free agency rules. This list is just another tiny reminder in the pile of research that a team filled with young talent will be more cost-effective than building a team through free agency.
Print This Post