Brad… What?
Welcome to the Astros rotation, Brad Peacock. In his first six starts (plus 16.1 innings of relief work), he has a 2.82 ERA with a 1.19 WHIP. Wait, I forgot to mention the 66 strikeouts in 44.2 innings. If you've ever seen this guy pitch, you've no doubt observed his strangely overpowering repertoire and wondered how All-Star hitters can look so ridiculous on a 93mph fastball. For a former top-100 prospect who has spent 10 years playing professional baseball, one might wonder if there was a fundamental change in stuff, if this is just batted-ball luck, destined to disappear as soon as you pick him up on your fantasy team (#thanksJasonVargas), or if the only missing factor was opportunity. Either way, everybody who has seen this Astros team play knows that something special is happening in H-Town. While many believed that the Astros needed at least one new arm to even compete for a playoff spot, the return of Cy-Young, immaculately-bearded Dallas Keuchel and breakout Lance McCullers mean that there was just one missing piece to seriously contend for the World Series. That piece is Brad Peacock.
Devastating Repertoire
Sometimes it's important to subject pitchers to the eye test, which this guy passes with flying colors (unlike a peacock which, while colorful, cannot fly). For this section, I'll show you a pitch and then a table showing the league leaders for that pitch type. Because of the problems with pitch values (which I'll dive into in a bit) it's important to couple that with other methods of assessing pitch effectiveness, including simply watching the pitcher.
While some of you will no doubt roll your eyes at the next section, I think it's important to talk about what matters when using film study. The important things to look for when watching a pitcher include:
1. Location (duh). I trust the Astros' game plan to get the job done on most days. More often than not, the relevant question is if the pitcher can execute that plan.
2. Bite. Is there late movement on the pitch? Arm side tail or cut? This can serve to induce weak contact even on meatballs and serve as a helpful backup in case of missed location.
3. Hitter's balance. While we now have metrics that calculate the likelihood of each batted ball becoming a hit based off of exit velocity and launch angle, those stats can be misleading as well. Sometimes, a hitter can be completely fooled on a pitch and still get the barrel on the ball. This could change the expected outcome for that batted ball, but not for the same pitch in a slightly different context.
4. Situational pitching. How do they fare in high-pressure situations (3-2, runner on third, battling back from 3-0, etc.)?
OK, sorry for the kiddie stuff. Back to Peacock. Here's a straight 3-2 fastball that generates a strikeout.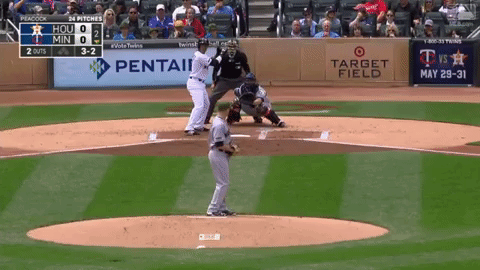 This pitch is indicative of a few things. First, it catches a bit more of the plate than you would like to see, although in a 3-2 count with bases empty and 2 outs, it is more acceptable to challenge the hitter than to give up a two-out walk (as long as it's not flat and down the middle). Second, note the late arm-side tail. This could be a major factor in his ability to generate swing and misses (as will be explored later).
Before I show you the leaderboards, there's a major caveat. As with a lot of advanced metrics, pitch-type linear weights are more descriptive than predictive. There's extremely high variance from year-to-year. On top of that, several variables go into each pitch and it's extremely hard to differentiate the signal from the noise. The results of certain pitches are not independent from one another, but heavily influenced by the hitter it's thrown against, the situation it's thrown in, the pitch it's following, etc. This all is amplified by the fact that his start of the season in the bullpen has limited his innings total and a good chunk of the results we are seeing are against an Oakland A's lineup that swings and misses…a LOT.
That being said, if we continue to see major run savings from Peacock as his innings total climbs, the continuation of the trend as more and more context changes, the more we can be confident that this is more a product of skill than anything else.
Here's how that pitch has fared against the league writ large. Below is a table of the league leaders in weighted pitch value for fastballs. Feel free to peruse the familiar names of his company on the leaderboard.
League Leaders in wFB/c (6/20/17) (Minimum of 40 IP)
| Name | wFB/c |
| --- | --- |
| Chris Devenski | 2.43 |
| Jose Berrios | 2.20 |
| Dallas Keuchel | 2.18 |
| Chris Sale | 1.95 |
| Jaime Garcia | 1.75 |
| Alex Wood | 1.72 |
| Taijuan Walker | 1.37 |
| Ivan Nova | 1.37 |
| Wade LeBlanc | 1.36 |
| Brad Peacock | 1.34 |
You might be asking yourselves why I chose to write about Peacock and not Jaime, Walker, Nova, etc. Aside from the amazing name, it's because this guy has not one, but two All-Star offerings.
Next, his slider (brace yourselves): Did you see where that pitch starts versus where it ends?? Is he throwing a wiffle ball? The look of frustration on Beltre's face is not unique to this at bat. That slider has been doing that to hitters all year. Below is the table of weighted pitch value leaders for sliders in the MLB this year.
League Leaders in wSL/c (6/20/17) (Minimum of 40 IP)
| Name | wSL/c |
| --- | --- |
| Max Scherzer | 4.82 |
| Yusmeiro Petit | 4.60 |
| Jake Odorizzi | 3.49 |
| Lance Lynn | 3.19 |
| Jordan Zimmerman | 3.16 |
| Carlos Carrasco | 3.15 |
| Jhoulys Chacin | 3.10 |
| Dallas Keuchel | 2.74 |
| Carlos Martinez | 2.56 |
| Stephen Strasburg | 2.47 |
| Brad Peacock | 2.42 |
There's a good chance that in high-leverage situations, this pitch can generate a swing and miss like it has so many times this season. There's a reason (which you probably picked up from watching the above gif).
League Leaders in SL-X (6/20/17) (Minimum of 40 IP)
| Name | SL-X |
| --- | --- |
| Yu Darvish | 8.3 |
| Scott Feldman | 6.9 |
| Jason Vargas | 6.8 |
| Jhoulys Chacin | 6.4 |
| Kendall Graveman | 6.1 |
| Brad Peacock | 5.8 |
| Joe Musgrove | 5.4 |
| Marcus Stroman | 5.2 |
| Ariel Miranda | 5.1 |
| Sonny Gray | 4.8 |
There are five sliders in the entire majors with more break than this pitch.
Overall, while there are problems with looking at pitch values in isolation, we can be slightly more confident that this is the product of solid game plans from the Astros coaching staff, Peacock's ability to carry it out, and simply a dirty slider.
This Peacock Can Fly
OK, so we know his pitch mix is fairly strong. What does this mean for his results? When I examined the batted-ball data, three things immediately jumped out:
1. When hitters swing at strikes, they miss.
League Leaders in Z-Contact% (6/20/17) (Minimum of 40 IP)
| Name | Z-Contact% |
| --- | --- |
| Chris Devenski | 75.4% |
| Chris Sale | 75.9% |
| Brad Peacock | 76.7% |
| Jacob deGrom | 77.8% |
| Danny Salazar | 78.4% |
This much is clear from the section above. This guy truly has overpowering stuff without lighting up the radar gun. Z-Contact is cool because for pitchers with low velocity, it serves as a kind of proxy for movement, sequencing (thanks to the coaching staff for that one), and locating pitches on the corners.
If anyone takes issue with Danny Salazar's inclusion on this list, it's important to keep in mind what gave him so many problems was not nastiness of pitch mix; it was mostly a combination of walks and bloated HR/FB ratio. He actually inspires confidence in Peacock, as you can think of him as a Salazar without the walks who keeps the ball in the ballpark (as you'll see… right now).
2. When they do make contact, it's soft.
League Leaders in Soft% (6/20/17) (Minimum of 40 IP)
| Name | Soft% |
| --- | --- |
| Dallas Keuchel | 29.9% |
| R.A. Dickey | 26.7% |
| Brandon McCarthy | 26.4% |
| Brad Peacock | 25.8% |
| Drew Pomeranz | 25.5% |
Dickey's appearance on this list should not be a surprise. Because of the low overall velocity of his pitches, the batter must generate the majority of the exit velocity. While Keuchel isn't a knuckle-baller, his average fastball velocity of 88.7 mph means the same logic applies, although not to the same extent. Peacock's appearance on this list is particularly impressive because of his average fastball velocity of 92.3. This means that although he is providing more force than the aforementioned players, he is still inducing roughly as much soft contact.
3. Even with hard contact, the ball stays in the park.
League Leaders in HR/FB (6/20/17) (Minimum of 40 IP)
| Name | HR/FB |
| --- | --- |
| Jesse Hahn | 1.8% |
| Brad Peacock | 3.0% |
| Michael Fulmer | 5.1% |
| Danny Duffy | 5.1% |
| Jason Vargas | 5.3% |
| James Paxton | 5.7% |
| Joe Biagini | 6.4% |
| Chris Sale | 6.7% |
This last table is, I think, what makes Peacock a candidate for greatness.
First, generating swing and misses is one thing, because it intrinsically decreases the likelihood of home runs, RBI, etc. But if you tell me this guy limits the pool of potential home runs AND the likelihood of each individual batted-ball event in that pool turning into a home run, we've stumbled on something special.
Second (and most important), he's in danger of being undervalued. It used to be thought that BABIP (batting average on balls in play) was essentially random for every hitter, so the ones with higher batting averages simply put the ball in play more often. Later, sabermetricians discovered that, in fact, some players just had higher BABIPs. Mike Trout hits the ball harder than Replacement-Level Joe, so Mike Trout is more likely to get base hits when he puts the ball in play. The latest version of this logic is playing out in the debate over HR/FB rates. Baseball analysts for years have been developing models that regress the HR/FB rate in the direction of the league mean. The thinking goes: if someone hits a hard fly ball, several factors have a large sway in determining if it leaves the park (park factors, weather patterns, time of day, etc.) outside of the hitter's control. These days, however, several pitchers are sustaining remarkably high HR/FB ratios (Gerrit Cole – 18.2%, Lance Lynn – 18.8%). If it turns out that this ratio actually has more to do with the pitcher, then these players are being systemically overvalued in projections. The flip side remains true. Projections tend to undervalue players with low HR/FB rates, because it ignores the skill involved in limiting the amount of hard contact that leaves the yard.
What's Next?
What's next for this Peacock? We can see clear trends in his pitch usage that suggest this dominance will continue. The below chart from our friends at Brooks Baseball shows what I believe to be the root of his recent success.
Two things to note:
1. He's throwing the slider much more often as the season progresses. It's his best pitch and the contact rate hasn't changed as hitters are seeing it more and more.
2. A sinker is in the works! Several analysts note that to be a major-league starter, you need three effective pitches to keep hitters off balance and be effective the third time through the order. While there are some problems with these studies (because of the preordained conclusion, there are very few two-pitch pitchers in the majors, resulting in self-fulfilling prophecy), it is at the very least comforting to see another pitch in the mix. While Peacock's curveball generates a high number of whiffs, he has trouble commanding it late in the game relative to his slider, so its usage is limited.
Lastly, for Peacock to be a truly effective starter, he's going to need to go deeper into games. Strikeout pitchers generally bloat their pitch counts in an attempt to generate swings and misses early on. Since transitioning to a starter, he's averaging 4 2/3 innings per start. Part of this will be resolved with experience as a starter, but in the meantime this new sinker could mean more ground balls, saving his swing-and-miss stuff for later.
For now, at least, it looks like the sinker is doing just that. In his last start, Oakland slugged .200 against it. With low whiff rate, high ground-ball rate, and low slugging percentage, this could be the tool to get Peacock deeper into games where the curve and hammer of a slider can take the wheel from there. While we're finally seeing what makes this guy so special, he's already making the adjustments needed to become an elite starter. This peacock is finally showing his tail feathers, and we haven't seen anything yet.
Print This Post