On Thursday evening Brewers have made some significant acquisitions to their outfield, notably acquiring Christian Yelich in a trade with the Marlins, and signing Lorenzo Cain to a five-year, $80-million deal. The Brewers have added around 7 Wins in a single day, at least according to Steamer, which has Yelich projected for 4.0 WAR and expects Cain to produce a WAR of 3.3. The point is, the Brewers have other outfielders such as Domingo Santana, Keon Broxton, and Brett Phillips, whose future with the team are now unclear.
One can make the argument that Broxton is perhaps more likely a bench player than the star player he seemed to be in his brief 2016 campaign. Keeping him as a fourth outfielder would not be an unreasonable expectation. Santana is likely at least an average outfielder, if not more, so keeping him around would be a waste of his talent, so trading him would make sense. Brett Phillip's strong showing late in the 2017 season makes him a valuable trade chip, too, especially considering that he still has not exhausted his rookie eligibility.
Rumors of the possibility of the Brewers trading the two outfielders were confirmed by Bob Nightengale:
The Milwaukee #Brewers now are shopping outfielders Domingo Santana and Brett Phillips for a starting pitcher

— Bob Nightengale (@BNightengale) January 26, 2018
While Santana is no doubt an interesting player worth examining, Phillips is whom this article concerns. It seems that Brett Phillip's value could be at its peak right now, for a multitude of reasons. An overarching theme of many transactions in Baseball this winter, or lack thereof, has been the seemingly increasing value of prospects to teams. This high value may be peaking right around now. First of all, contending teams with the need for an impact veteran player at the deadline will be less concerned about trading prospects at that time. However, also as a result of the reality that next winter there will be the star-studded free agent class, which should, in turn, facilitate more transactions throughout the baseball industry as a whole.
Phillips played in 37 games last season for the Brewers, yet he is still rookie eligible and is controllable through 2023, for the next six seasons. He posted a 104 wRC+, adding 2.2 runs on the bases, while accounting for 4.5 runs saved on defense. He showed off his cannon of an arm by throwing a ball 104-mph according to Statcast, and made multiple other throws from the outfield over 101-mph.
Those are all reasons why the 29 teams in baseball not named the Brewers should be high on him! He has done everything well in the Major Leagues thus far, so on the surface, there are not necessarily any real red flags in his profile. Though upon examining his brief showing in the big leagues last season more closely, there are reasons to be concerned about his ability to sustain the success he had.
Regression to the mean is always likely, and this is the essence of the story Phillips' data is suggesting. What is so interesting about Phillips though, is that there is another player who seems to have a very similar skillset. Looking at the Major League hitters' strikeout rates in 2017, Phillips and Drew Robinson both struck out 34.7% of the time. That is how the players were first connected by the author, which ended up being the basis for what has turned out to be a really interesting investigation.
Here are some of last year's numbers for both players:
The performances are in a small sample, which is the primary reason to be doubtful that this comparison is necessarily very accurate. However, it is nonetheless captivating that the two players had such similar seasons in 2017. It gets better though! They both hit left-handed and throw right-handed, and take a look at how similar their swings are!
Phillips: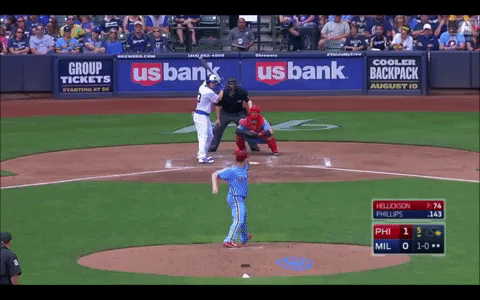 Robinson: The swings are pretty similar, agreed? The finishes are slightly different, but the bat paths and leg kicks of both players are certainly quite reminiscent of each other. Phillips had an average launch angle of 13.27 degrees, while Robinson's average launch angle was 14.29 degrees in 2017. Given such a finding, it would seem to make sense that they have relatively similar bat paths through the hitting zone. Consider the most recent tool grades given to each player by Fangraphs Prospect Analyst Eric Longenhagen:
| | | | | | | |
| --- | --- | --- | --- | --- | --- | --- |
| Player | Hit | Raw Power | Game Power | Run | Fielding | Throw |
| Drew Robinson | 40/40 | 55/55 | 40/45 | 55/55 | 50/55 | 60/60 |
| Brett Phillips | 40/40 | 55/55 | 45/50 | 55/55 | 50/55 | 70/70 |
Phillips has a better arm, and Longenhagen gave him a 45 FV, while he gave Robinson only a future value of 40 on the 20-80 scouting scale. Though one could reasonably argue that they are kind of the same player. At the very least, these are two players with very similar hitting abilities and performances thus far.
While Phillips produced a WAR of 1.0 during his 37 games with the Brewers in 2017, Robinson's WAR was 0. What has to be kept in mind, however, is the fact that Phillips was riding a .408 BABIP, that is highly unlikely to occur again. Steamer projects both players to hit .229 in 2018, illustrating the similarities in their profiles. Phillips is expected to put up a 77 wRC+ figure, with Robinson actually having the edge with a mark of 86 wRC+ projected by Steamer in 2018.
These are two players that are similarly mediocre, in the writer of this article's best estimation. The fact that Phillips does not have a good chance of getting any meaningful playing time in the outfield this season is already enough to justify Milwaukee trading him away.
The reality that his value is perhaps at its highest right now, as a result of a great debut performance with the brew crew in 2017, also strongly points towards the idea of trading him. Throw in the fact that he is controllable for six more years, and there seems to be little reason for his value to increase. The Brewers would do well to acquire some pitching in exchange for Phillips. The time is now to do so!
All Data used in this article was taken from Fangraphs, as well as MLB.com and Statcast.
Print This Post
When he is not spending time with his family or loved ones, Conrad does all he can to better understand and appreciate the beautiful game of Baseball. Twitter: @conradparrish