A little over a year ago, readers of this site were introduced to Hector Neris and his excellent splitter. Articles published early in the 2016 season by Craig Edwards and Jeff Sullivan explored how he was using the pitch, and Neris continued using his splitter to great effect for the rest of the year. His was the third-most valuable splitter in MLB, in a tier with Masahiro Tanaka's and Matt Shoemaker's as the only splitters with double-digit run values. He allowed just a .155 opponent batting average and had a 59.6% ground-ball rate with his splitter. It was also his primary punch-out pitch, using it to get 66 of his 102 strikeouts last year. Coming into this season, more cynical observers posited that only the value of saves and his upcoming arbitration negotiations were preventing Hector Neris and his splitter from dominating the ninth inning as the Phillies' closer.
In case you forgot what it looked like, here he is striking out Bryce Harper with the pitch last September: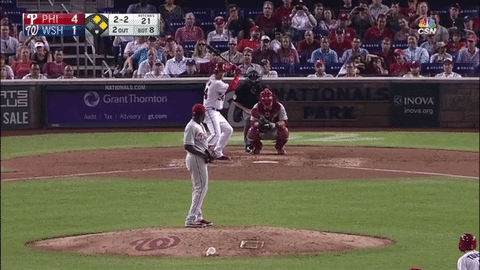 Just nasty. A lot can change in a year, however, and in the young 2017 season his splitter hasn't been nearly as good.
Those numbers aren't encouraging. He's getting half as many called strikes while throwing more balls. His hit percentage has doubled, his LD% has jumped, and his GB% has dropped. He's already allowed half as many home runs as in all of 2016, and we're only halfway through May. Additionally, his O-Swing% has dropped, from 46% last year to 41% in 2017. Not the results you would hope for from your best pitch, let alone one of the best splitters in the Majors one year ago.
He's not throwing it any more or less than last year and he's not really allowing more contact or balls in play. What's more puzzling is that his swinging-strike rate is almost identical to last year, just over a healthy 21%.
So what's going on?
As Craig and Jeff wrote, the pitch was so effective because of where he was locating it. He located it down in the zone, ducking under bats for Ks or grounders and sneaking in for called strikes when batters laid off the pitch.
His 2016 heatmap shows a consistently executed pitch; one that gave opposing batters fits. What has happened so far in 2017?
Oh.
While the footprint hasn't changed much, after 146 pitches there's definitely a disturbing trend developing. His splitter is creeping up towards the middle and down under the the strike zone, instead of living right on the lower edge like it did last year. If the pitch is thrown too low, perhaps batters are able to lay off it more, which would explain the drop in O-Swing% and called strikes as well as the rise in balls. If the pitch misses up, well, this happens: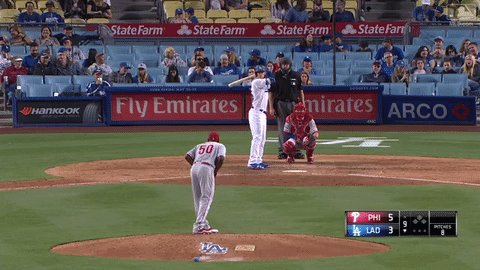 Where was that pitch located?
Right down the middle.
To develop into the dominant late-innings pitcher that his 2016 performance suggests he could become, Hector Neris is going to have to regain command of his best pitch. Here's hoping that he finds it soon, because MLB is missing one of its best splitters.
Print This Post