Let me begin by clarifying that this article is not conceived as an attempt to downplay Trout's historic greatness. I am a Trout devotee, fully in awe of his talent and willing to debate with Baby Boomers about his worthiness of winning the AL MVP just about every season (Miguel Cabrera's Triple Crown be damned!). However, there is one baseball player I worship above all the rest – Mickey Mantle.
As a child growing up with an undying love for baseball and reading, I devoured just about every baseball book I could. Player biographies, compendiums claiming they could list the top 100 (or even 1,001) ballplayers of all time, and wacky collections of random fun facts. My favorite of all of these was "The Mick," Mantle's autobiography. This book made me fall in love with his story, and I acquired an appreciation for him as one of the all-time greats beyond his stat line. And that, folks, is why Mike Trout will never be Mickey Mantle – the overwhelming power of narrative vaults Mantle to a level beyond just about any player this side of Babe Ruth. In his book The Truth About Stories, Thomas King tells us that "the truth about stories is that's all we are." Our entire humanity is shaped by stories. No collection of numbers or in-depth analysis of WAR, launch angles, and exit velocities can combat the enormous influence of stories. Trout, legendary talent and all, will (barring extraordinary future events) never have a story that lives up to Mantle's.
If you're unfamiliar with Mickey Mantle's story, maybe it's been a while since you've listened to Bob Costas pontificate. Let me refresh you. Here's really all that matters; the life-blood of Mantle's legend. He was supposed to be even better than he actually was! Here's a photo of the injury that derailed everything.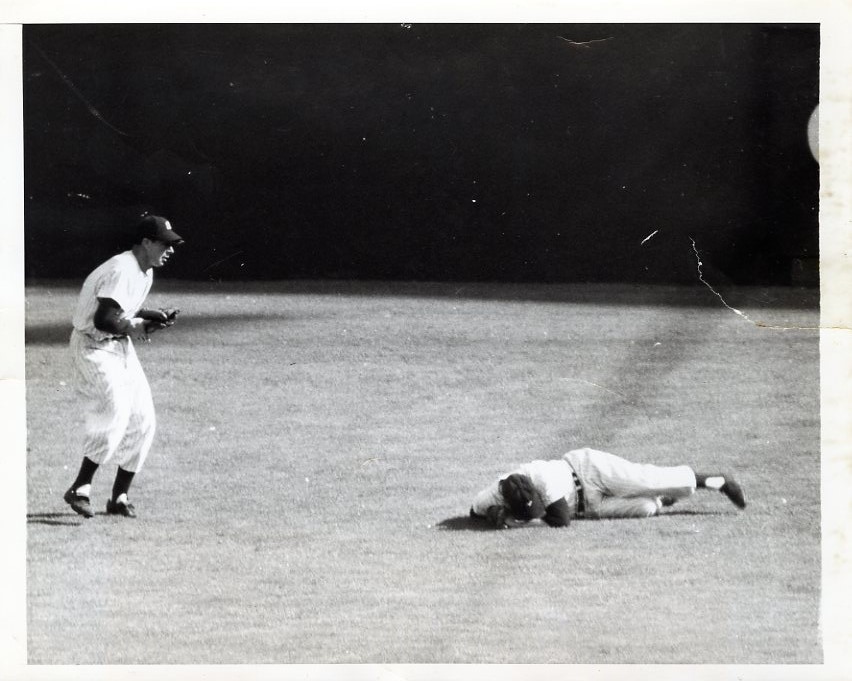 You can just see DiMaggio standing over him, lamenting the fact Mantle will only accumulate a mere 111 career WAR from this moment onward. This career-destroying injury caused Mantle to hit only 523 home runs from this moment onward.
Let's talk about home runs for a second. Mantle's mammoth power from both sides of the plate is the skill he is best known for. The term "tape-measure home run" was coined because of his power, in case you didn't know. Mike Trout hits some tape-measure home runs himself. Here's the longest home run of Trout's career, a 489-foot blast at Kaufman Stadium.
Impressive, no doubt. That's a long way to hit a baseball. We can see that from the video. In fact, the video provides irrefutable evidence of the event occurring, with ESPN's Home Run Tracker giving us accurate statistical information. Had the home run been hit in the Statcast era we'd have an even more detailed account of the home run.
Mantle's home runs are historic, legendary, and record-setting. We know this because we're told this. We have no Statcast data to back this up, but the stories we're told are compelling. Purportedly, Mantle once hit a ball 734 feet. Well, he would have, had the ball not hit the façade atop Yankee Stadium while still reaching the apex of its flight. Don't believe it? Check out the definitive list of Mantle home runs.
It's unbelievable, right? With no Statcast or ESPN mathematicians to aid us, all we have are eyewitness accounts and crude trigonometric measures to give us a less-than-definitive representation of reality. What matters isn't how far the ball was actually hit. What matters is that there is a story surrounding the home run. In the same way his early-career knee injury begs the question of "What if?", so too does this home run leave room for imagination. The façade acts as the sprinkler head, an impediment between what was and what would have been.
What could Mike Trout be? We'll have to wait for time to answer that question. In any given moment, though, we'll never have to question what he is. We'll know the exact speed the ball comes off his bat, the exact distance of his home runs, and the precise amount of ground he covers as he tracks down fly balls. That's the real crux of the issue – we know too much. Even though Trout plays on the West Coast and arguably doesn't receive enough recognition or publicity, we have all the information we need and more. We can quantify his achievements in a way we never could, except retroactively, with Mantle.
Mickey Mantle's stellar career was plagued by knee injuries, alcoholism, and pesky stadium facades. Mike Trout's career will always be followed by WAR-calculating analysts, 24/7 media coverage, and the omnipresence of Statcast. Subjectivity will always be more compelling than objectivity. It's human nature. The truth about stories is that's all we are, and the truth is that Mike Trout will never be Mickey Mantle.
Print This Post