When Brian Roberts was on pace for 73 home runs just 11 games into the 2005 season, I made a bet with one of my buddies that he wouldn't hit more than 10 home runs on the year. When I saw him drive Jose Lima's very first pitch just over the right field wall on May 5 for home run number 9, I thought to myself, "Should have made it 15 home runs." Yes, 15 home runs was more like it, as he finished up the season with a career high 18 home runs and a career high .312 batting average. That's 6 more home runs than his career total before the 2005 season and 40 points higher than he ever batted. Let's see what's in store for 2006 and if he has any chance of hitting 18 home runs again.
One thing Roberts has going for him is pretty good place discipline, as evidenced by his good walk to strikeout ratio (BB/K). In 2005, he swung at 19% of the pitches outside the strike zone, which is just slightly better than average. Fortunately, he did a good job getting his bat on anything he really shouldn't be swinging at, typically fouling off bad pitches. Overall, he's one of the top 50 contact hitters in baseball, which isn't too shabby.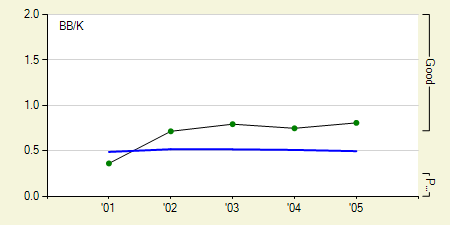 Taking a look at his isolated power (ISO), he experienced an extreme spike during the start of the season, and almost returned to previous levels as the season went on. Excluding the spike, it does look like he made some slight advances in the power department over his 2004 season. As for his career high .312 average, it was mostly due to a high .342 batting average on balls in play (BABIP), along with a high 27% line drive percentage.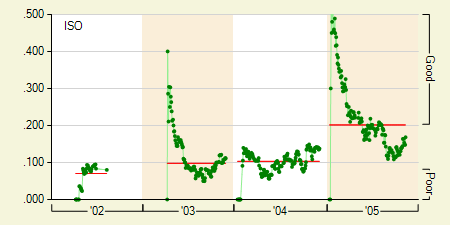 The truth is, Roberts looks like he really did improve in 2005, but not as much as his home run totals or batting average would suggest. I think if he could hit 12 home runs while batting .290 he could call it a successful year. He should definitely do better than his 2004 totals, and remember that he'll continue to be a threat on the bases.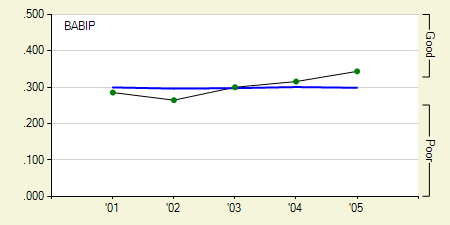 Print This Post