I feel like this Daily Graphing column has been a bit too bullish recently, so after trolling the FanGraphs database I settled on writing about Jeff Francoeur. After being called up in mid-July from AA, Francoeur went on an absolute tear, batting .402 with eight home runs in his first month in the majors. After that it was pretty much all downhill, as he finished off the season batting just .252 with only six home runs in his final 200 plate appearances, bringing his season average to an even .300. Let's see if he's really the .300-plus hitter he started off the year as, or if he's closer to the .250 batter he was at the end of the season.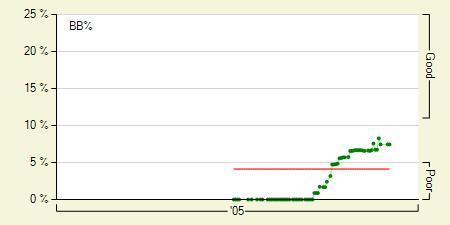 Oddly enough, he didn't have a single walk until August 21, and that wasn't even a real walk since it was intentional. His first major league, bona fide walk came three days later on August 24, when he faced Mark Prior in his second at-bat. He started off taking a slider outside and then fouled off two fastballs. Down in the count, the odds were against Francoeur, but he managed to hold back on a high fastball and an outside fastball to bring the count to full. Finally, Prior threw a hard slider down and outside and Francoeur didn't swing! The crowd would have gone wild, except it was a home game for the Cubs.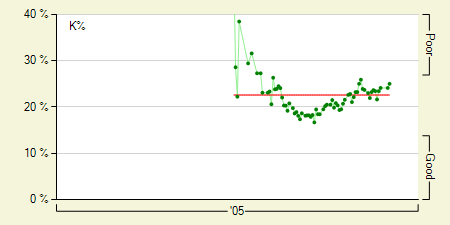 If the story had a happy ending, I'd say it was all smooth sailing after that one walk, but he only managed an additional seven unintentional walks in his next 133 plate appearances. That's a lowly 5% walk rate, 6% if you include the two unintentional ones. Now, this wouldn't be too much of a problem if he was a great contact hitter, but he's not. He strikes out about 22% of the time, which is worse than average, bringing his walk-to-strikeout ratio (BB/K) to an awful .19. Also note his power numbers took a steep dive after his initial surge.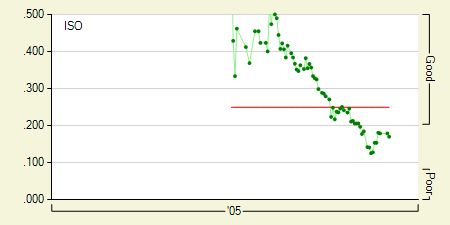 Considering Jeff Francoeur's microscopic walk rate and his not-so-great strikeout rate, I'd say there's not much chance he'll bat over .300 and repeat his rookie season. His major league batting average really was out of whack compared with the time he spent in the minors where he never batted over .300. Expect the type of numbers he put up after his hot start and remember his first month as something rather phenomenal, but not something that'll soon be repeated.
Print This Post