Since the Dodgers and Jeff Weaver were unable to reach a contract agreement, Weaver will now seek to join a different team. After a uncharacteristically horrible season with the Yankees in 2003, he managed to get his career back on track with the Dodgers the past two seasons. Last season he was arguably at his best going 14-11 with a 4.22 ERA and a 1.17 WHIP. Let's take a closer look.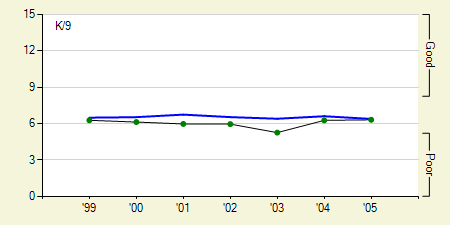 As far as strikeouts go he's been remarkably consistent with perhaps a slight (very slight) upward trend. In 2005 he had a career high strikeouts per 9 innings (K/9) of 6.31. While it's nothing to rave about, it will certainly get the job done considering how few people he walked last year.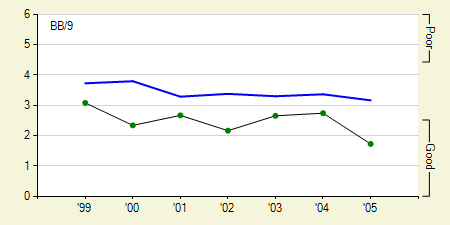 To go along with his career high in strikeouts, he managed to push his walks per 9 innings (BB/9) to a career low 1.73. Now, that is something to rave about as it was the 12th best in baseball among starting pitchers. That brought his strikeout to walk ratio (K/BB) to a very good 3.65. So if his strikeouts and walks were at their best in 2005, how come he saw an increase in ERA?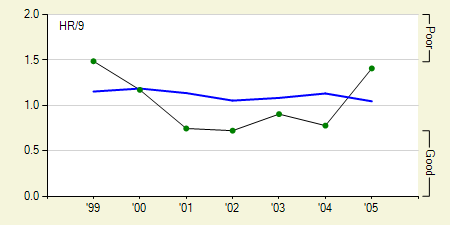 Quite simply, he gave up 35 home runs which tied him for the 2nd most in baseball. He gave up at least one home run in all but 11 of his 35 starts. He's been historically excellent at keeping the ball in the park with his highest home run per fly ball rate (HR/FB) in his previous three seasons being 8.3%. I find it particularly odd that his walks suddenly dropped while his home runs suddenly spiked. While this may be pure coincidence, it's definitely something to be aware of.
If everything were to click for Jeff Weaver (almost last year) he could have a really great season, but that's the problem with Weaver isn't it? Things haven't clicked yet. That's not to say next season won't be the year he finally puts everything together, but I can't help but feel there's something fishy going on with his walks and home runs. It doesn't appear he has a whole lot of downside as he'll be three years removed from the Yankee debacle. Teams can expect another solid season from him, but they probably shouldn't count on anything special either.
Print This Post