After hanging around Baseball America's top 100 prospect list for a couple years, Jeremy Reed, at only 24 years of age played his first full major league season in 2005. Compared to the small preview he gave in his 2004 big-league debut where he batted .397 in 58 at-bats, his 2005 season was, to put it nicely, sobering. In just under 500 at-bats he batted only .254 with three home runs and 12 stolen bases. Let's see if there's any chance an improved 2006 is on the horizon.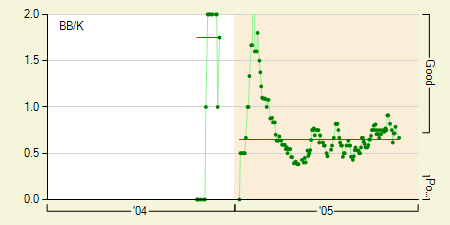 Looking at his walk-to-strikeout ratio (BB/K), he actually has very solid plate discipline, especially for someone so young. He swings at pitches outside the strike zone around 17% of the time, which is better than the average major league player, and he makes contact when he swings about 86% of the time. He's particularly aggressive with curveballs inside the strike zone.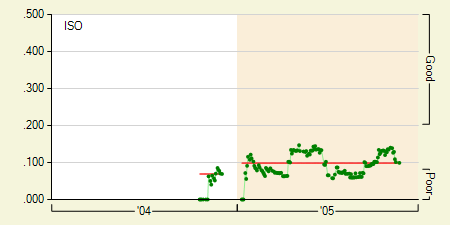 While most everything seems to be in order in terms of plate discipline, his Isolated Power (ISO) leaves much to be desired. It's a little odd because typically players that have similar plate discipline will hit on average 14 or so home runs, which is a far cry from the three he actually hit. Playing at Safeco Field is going to suppress his home runs a bit, and his 33 doubles are encouraging, but that still doesn't explain the discrepancy.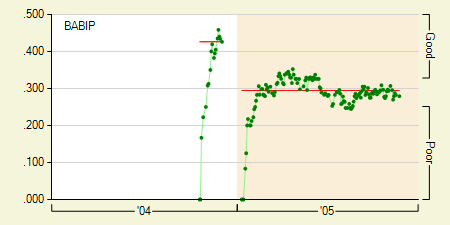 Remember when I said he was aggressive with curveballs inside the strike zone? His batting average on balls in play (BABIP) with those same curveballs was an awful .209, which is part of the reason for his mediocre batting average. Furthermore, his line drive percentage was a mere 18.9%; he struggled not only with breaking pitches but also slightly with fastballs.
I wouldn't make too much of Jeremy Reed's batting average and low home run totals in his first full major league season. His plate discipline is solid, and I'd venture he improves his power numbers by hitting around 10 home runs next season. Unfortunately, his groundball tendencies will limit his home run ceiling, but hopefully he'll make the necessary adjustments against breaking balls which would give his batting average a much-needed boost.
Print This Post