After suffering various setbacks throughout his career, John Patterson finally pitched his first full season in 2005 for the Washington Nationals. I guess you could say it was worth the wait, as he led the Nationals' pitching staff with a 3.13 ERA in just under 200 innings while striking out a team-high 185 batters. In July and August he was one of the top five pitchers in baseball by going 5-2 with a 1.87 ERA and 82 strikeouts in 81-plus innings of work. Now that he has one full year under his belt, what should we expect from John Patterson in 2006?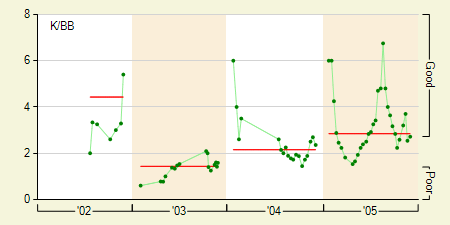 For starters he has a good strikeout-to-walk ratio (K/BB) of 2.85 and a very good strikeouts-per-nine-innings rate (K/9) of 8.4 for a starting pitcher. He relies mostly on his fastball, which he usually throws in the low 90s but tops out at 97 mph. Occasionally he'll mix in his slider and curveball, but he'll almost never do that when behind in the count. He'll really start to throw his curveball when he gets two strikes on a batter, and it appears to have become his most reliable strikeout pitch. His slider is also a quite effective strikeout pitch, but he doesn't throw it nearly as often with two strikes.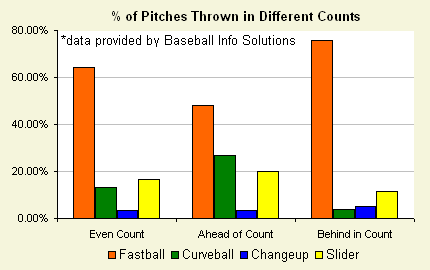 The one thing you have to worry about with him is that he's an extreme fly ball pitcher. Last year he allowed only 7.5% of his fly balls to become home runs (FB/HR). Typically pitchers tend to regress towards the league average of around 11%, but playing in R.F.K. Stadium will certainly help him keep that number lower than average. R.F.K. Stadium has a HR/FB of only 7%, the lowest in baseball.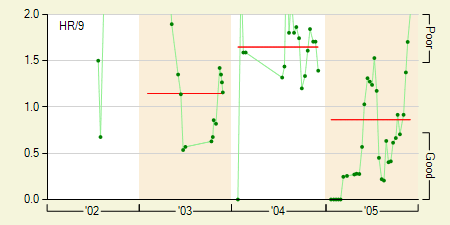 John Patterson will only be 28 years old next season, and he has just entered what should be his prime years. Don't read too much into his 9-7 record, as he got very little run support with the Nationals. His strikeouts are just where they need to be, and there's no reason he still can't continue to limit his walks. As long as he's pitching in R.F.K. Stadium, or other pitcher-friendly parks I don't think there's as much cause for alarm as there usually would be in the home run department. His injury history leaves some concern, but if healthy, there's no reason why he can't do just as well as last year if not better. And if the Nationals can manage to pony up some runs for him, more wins will certainly be on the way.
Print This Post