Kelvim Escobar
Last year at this same time I was trying to snag Kelvim Escobar in as many fantasy leagues as possible due to his solid run at the end of the 2004 season. In the final two months he went 6-4 with a 3.20 ERA and had a tantalizing 79 strikeouts in 78 plus innings of work. Two months into the season, Escobar was looking like a fine selection at 2-2 with an ERA just under 3.00, but he elected to have surgery on bone spurs in his elbow that kept him out until September. When he finally returned he was limited to bullpen duty, but he'll be back in the starting rotation for the 2006 season. Let's see if he's worth taking a chance on again.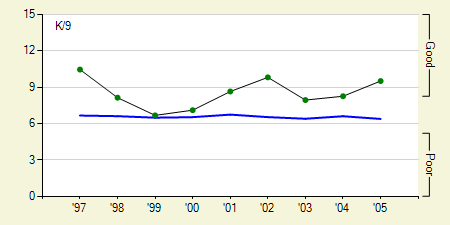 Looking at his strikeouts-per-nine-innings rate (K/9), he has absolutely no problem striking batters out. In his one month back from surgery he continued to mow batters down with a K/9 just over eight. In 2005, swinging batters failed to make contact with his pitches a whopping 28% of the time which was the second-highest in baseball among starting pitchers. Batters clearly have problems with his five-pitch repertoire.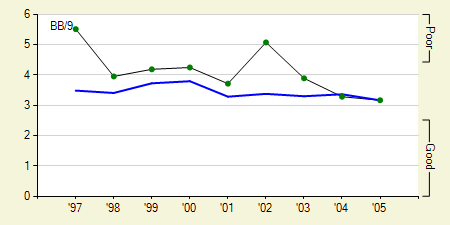 Back in 2002 and early 2003 when he was closing for the Blue Jays, he struggled mightily with his control, but since then he's been able to bring his walks-per-nine-innings rate (BB/9) down to a career low of 3.17. Furthermore, he's never had much of a problem in the home run department, keeping his home runs-per-nine-innings rate (HR/9) below the league average in all but two of his nine seasons. His groundball tendencies certainly help him out.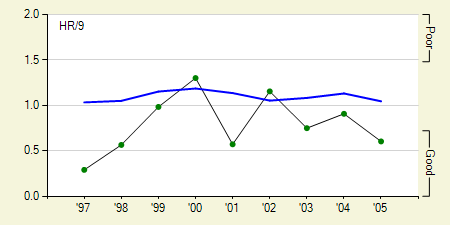 When you get right down to it, Escobar strikes out a ton of batters, has a declining walk rate, doesn't give up many home runs, and oh yeah, he's a groundball pitcher too. Seriously, what's not to like about this guy? Sure he may be a bit of an injury risk, but who isn't these days, and if he wasn't 100%, he wouldn't be pitching for Team Venezuela in the World Baseball Classic. I for one will certainly be looking to snag him again this year, and he should pick up right where he left off before undergoing the knife.
---
John Lackey
After winning Game 7 of the World Series in 2002, John Lackey had two very mediocre seasons for the Angels. It was looking like 2005 might not be any different, as he had an 8.27 ERA after his first three starts, but he managed to do a complete 180 and went 13-4 with 3.06 ERA the rest of the season. Despite his great season, not everyone seems to be in agreement on what the future holds for Lackey. Let's take a closer look and see if there's any to think he'll revert to his pre-2005 form.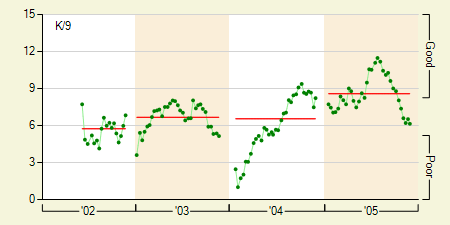 Starting with his K/9, you'll see that he was already laying the groundwork for a breakout season back in 2004 when his strikeouts slowly climbed towards elite territory. In 2005 he picked up right where he left off, and by mid-season he had reached some pretty insane strikeout levels. It's worth noting he did slow down a bit towards the end of the season, but overall he had the fifth-highest K/9 of any starting pitcher in the American League.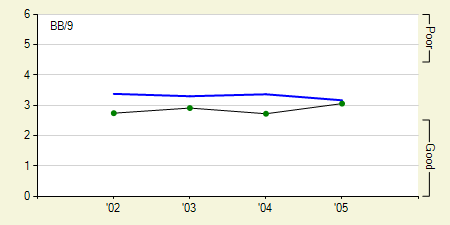 His control has always been decent, as his BB/9 has remained pretty flat his entire career. However, his HR/9 is a completely different story. In 2005 he allowed only 13 home runs, which made for an extremely low home run-per-fly ball rate of 6.6%. Typically the league average is near 11%, and it's almost a certainty he'll regress back towards the average. On the other hand, he did have a batting average on balls in play (BABIP) of .333, which was a bit high, so chances are that will also regress a bit back towards the league average.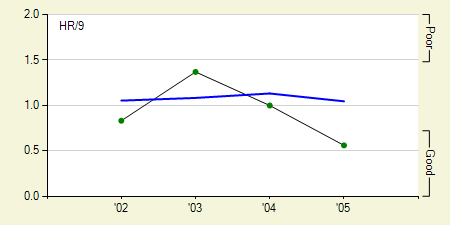 When you take everything into account, it seems clear that Lackey's breakout season wasn't a fluke. I could see his home runs being more of a problem if he didn't pitch in Anaheim and if he wasn't a groundball pitcher. Hopefully any decrease in BABIP will counter any increase in home runs. His late season decline in strikeouts will be something to keep an eye on, but I honestly don't think there's much to be alarmed about here. I fully expect him to repeat his 2005 season.
The payoff of being polite.
Print This Post