ESPN Deportes is reporting that Sammy Sosa may be headed to Washington, D.C. and even goes further by saying that some media sources in the Dominican Republic are saying the deal is "all but done." Troubled by various injuries (foot, toe, infection), Sosa was truly awful last season, batting a meager .221 with 14 home runs. He experienced a particularly horrible slump when he batted .106/.213/.112 from mid-June to mid-July. Let's see if there's any chance he'll rebound in 2006.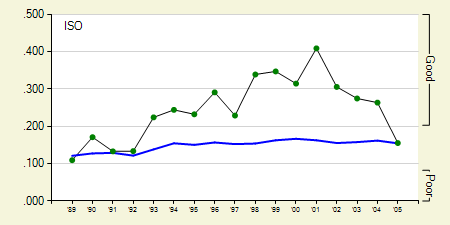 The question on everyone's mind has to be if a lack of performance-enhancing drugs was the cause of his dismal 2005. We may never know for sure, but a chart of his isolated power (ISO) will surely make you wonder. While it looked like he was certainly starting to decline well before last season, he went from having an ISO well within the top 20% of all batters in 2004 to just being merely average in 2005. That's quite a nosedive.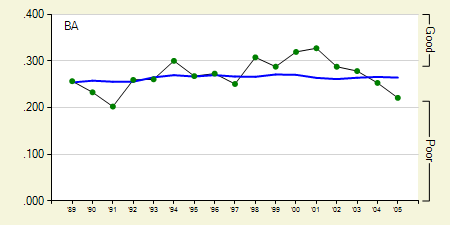 If he can't hit home runs anymore, a .221 batting average isn't going to fly (even with the home runs). Since hitting .328 in 2001, his batting average has been on a four-year decline. He's never had the best plate discipline either, especially if you discount the intentional walks, so it seems unlikely his batting average will ever approach .300 again.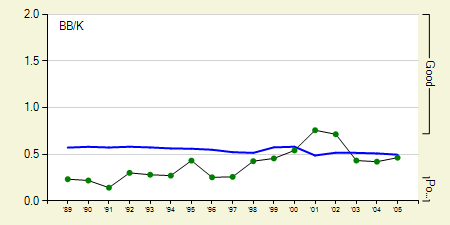 Unless Sosa finds a way to transform himself, there's no way he'd be a good fit with the Nationals. I can't figure out why he'd want to come to D.C. anyway if he wants top 660 home runs. I've said it before and I'll say it again: R.F.K. Stadium is just about the hardest place in the league to hit home runs, with a home-runs-per-fly-ball rate (HR/FB) of 7% for right-handed batters. I think his batting average will probably rebound a bit, but I'd be surprised if he hit 10 home runs at home if he signs. With everyone in D.C. talking about the new stadium deal pretty much non stop, this would give Washingtonians a good chance to take a step back and rip into Jim Bowden if a deal actually happens. Can the Nationals get an owner already, please?
Print This Post