Kent Williams and I were returning from a ballgame downtown on a cool summer evening. The hometown Blue Jays had defeated their division rivals from Tampa Bay in the first game of a 3-game set. We happened upon a baseball park and proceeded down a path towards the bleachers behind the backstop. We noted the bright lights shining in vain on the field; no one was playing.
We were in Christie Pits, a park west of the downtown Toronto core in a mixed residential and commercial neighborhood. Many years ago I lived in a house not more than a Jesse Barfield stone throw from here. The ballpark is in a hollow that was dug out long ago, and the slope provides grass "bleachers" to augment the few conventional ones that remain. It's a rudimentary park with chain-link fences, but it is also the home of the Toronto Maple Leafs of the Ontario-based Intercounty Baseball League. Former major leaguers Paul Spoljaric and the Butler brothers (Rob and Rich) have played in the league. I chose this spot for our interview because I know a little something about the significance this place has to Kent.
There are great memories for me at this park. This is my neighborhood. My high school team has played here many times, sometimes with success and sometimes ending in heartbreaking defeats. I've watched many great Leafs games over the years. This is my favorite baseball spot in the city. There's no place better on a Sunday afternoon to come out and watch excellent caliber ball. It's a little gem for those in Toronto who haven't discovered it.
Kent Williams was born in Port Colborne, Ontario, a town on the north shore of Lake Erie. He started playing baseball on the sandlots when he was five. His first organised baseball experience came at the age of seven. From there, the family moved to Etobicoke, where he played organised ball as a teenager.
"My playing career was nothing to really write home about. I was always a good hitter who never had a position, but they moved me around the field so that they could keep my bat in the lineup."
A Kevin Mench type?
"With a bit more speed on the bases. To this day that's part of the way I coach – we try to out hit everybody."
When Kent caught the baseball bug, his exposure to the big leagues came via radio, weekly broadcasts on television, and of course the World Series. Who were his favorite players, his heroes?
Willie Mays is the greatest combination of excitement, skill and talent that I've ever seen on a baseball field. He could do everything and had a knack for doing it at the most opportune times in the ballgame. Whenever I saw him play on television it seemed like he always did something else to astound me. I've seen other people come close – the third baseman for the Yankees today is a pretty good ballplayer – but Willie was incredible. He would do things nobody else could do and do them on a regular basis.
But it was not Mays' Giants that inspired him as a youngster. In 1960, the Pittsburgh Pirates were a bunch of scrappy players led into battle by the legendary Roberto Clemente. That team knocked off the all-powerful New York Yankees in an improbable 7-game series. It was an object lesson for young Kent: Anything is possible in baseball.
"Players that may not have as much talent as the opposition can pull together. I've kept that wonder at the game ever since."
There was no major league baseball team in Toronto at the time, but there was the baseball Maple Leafs. They were a long-standing franchise in the International League, and in the mid-60s they were the Boston Red Sox' AAA affiliate. Kent recalls the exciting baseball played in that era.
The summers I was 12 and 13, the Leafs won the International League. If you recall the '67 Boston Red Sox – they won the AL pennant as one of the long shot surprises in baseball history. We had the core of that team in Toronto the summer before. George Scott, Reggie Smith, Joe Foy, Mike Andrews, Jim Lonborg – I think I went to all their home games. I confess to still being a closet Red Sox fan to this day because of how much fun that summer of '67 was for me.
As a young adult, Kent jumped feet first into the horse-racing world and eventually did just about every job one could in that field. He went from training horses to the management end of things, and then found himself doing promotions for small racetracks around Ontario. Writing feature stories for the various trade magazines in the harness racing world sharpened his writing skills.
Many years later he was ready for a career change: He left horse racing and got into the computer trade. With more time on his hands and writing skills at the ready, he took over the vacant post of ESPN Fantasy Baseball correspondent for his hometown Blue Jays.
There were two guys in my crosshairs. One was manager Buck Martinez, the other was second baseman Joey Lawrence, who I called Buck-Eighty after his batting average (note – in 55 major league games Joe Lawrence batted .180). Buck and Buck-Eighty had to go. I kept bugging the GM to bring up Orlando Hudson to play second and Josh Phelps to get his bat into the lineup. My other favorite target to take shots at was Raul Mondesi. So I looked at a team that I thought was a manager, a second baseman and a rightfielder away from contention and magically, in the first half of the season, I got all those wishes.
Three smart players devoted their lives to baseball.
For some of us, writing three columns a week would be too much to handle, but Kent wanted to write even more. A friend asked him to become the webmaster for his site, so Kent started his own baseball weblog to polish his writing skills and get up to speed on HTML. He called it Batter's Box.
Who could have thought that Batter's Box would be read by thousands of baseball fans on a regular basis and be nearing the one million hit mark not two years after its inauspicious birth? Begun as a solo effort, Kent invited a fellow Blue Jays fan and regular poster at Baseball Primer to join him. The new venture was transformed into a dialog.
That was Gideon J. Clarke – anybody who takes a Kinsella character as his handle can't be all bad, I figured. So I sent "Gideon" an e-mail of introduction, pointed him to my fledgling blog and asked him what he thought. Lo and behold, he had a two or three thousand word summary of the 2002 season all ready to go and didn't know where he wanted to post it. As our regular readers know, "Gideon" is Jordan Furlong's handle. Jordan and I have since become great friends and partners in this venture; it was certainly a stroke of good fortune that he agreed to join me.
The pair didn't have any lofty goals – they were in it to entertain and provide feedback for each other. But one incident got them thinking. A certain Keith L. left a comment correcting Kent about a recent Blue Jays acquisition. Howie Clark, the poster noted, did not play four positions – he played five positions including second base. Kent didn't know what to think of the correction, and thought perhaps that someone was playing a joke by impersonating Keith Law (assistant to General Manager J.P. Ricciardi). Fifteen minutes later, an e-mail arrived. In it, Keith Law encouraged them to continue what they had been doing.
Kent Williams (right) with J.P. Ricciardi at Skydome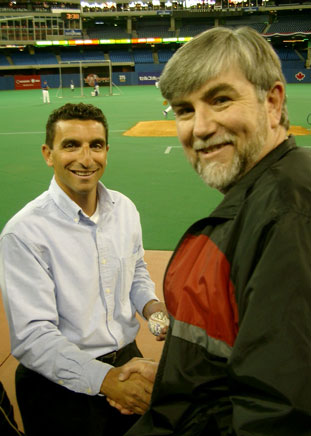 Somebody who is a very bright baseball man in the front office of a major league team, and an experienced baseball writer himself thought what we were doing was worth commenting on.
The dialog didn't last long. Soon, other voices were invited to join and a fledgling community took shape:
We actively recruited people we respected from Primer like Craig Burley, two colleagues at ESPN (John Gizzi and Mick Doherty) and a few other friends. Then some readers joined the author ranks.
Today, Batter's Box is a veritable beehive of activity. Daily minor league reports, discussion threads of every Blue Jays game, player and coach interviews and lots of other original material are produced on a regular basis. It's all due to the small army of baseball writers that have been recruited over the past 20 months. There are currently 23 authors listed on the roster page – each of them is free to post whatever material they deem appropriate without editorial approval. Does the loss of control over content bother Kent?
I'm very happy being an occasional contributor myself. I don't cling to this with any kind of ownership. I think that it has taken on a life of its own, more than anything I could have made it. Everybody who contributes and the readers too, are part of a community that is Batter's Box. For me to think this is mine to direct as I see fit would be a conceit at this point.
Batter's Box is a thing on its own now – a living, breathing collage of hundreds of personalities.
It's really been satisfying to me numerous times, to be away from baseball for as little as a couple of days. To be able to go to my own site and find all of this out in one place has been very rewarding. I've been up at the cottage and then I come home and not only is the site alive and well, it's thriving and there's everything I've missed about the Jays and a bunch of other commentary about baseball.
References & Resources
The founder of the Box is one of the most entertaining and skilled baseball writers on the net. Check out this pre-season essay on the Saint Louis Cardinals to get a taste of his writing.
Print This Post