Sonny Gray picked Pickles.
Javy Baez opted for El Mago (The Magician).
Each name, as you know, graced the associated player's jersey during the inaugural Players Weekend on Aug. 25-27, a time when Josh Hader became Haterade and A.J. Griffith became the first player in history named Sweet Lettuce. But what if Griffith hadn't been the first? What if, instead, Ross Grimsley had pioneered the synonym for a fabulous head of hair?
In the spirit of Sweet Lettuce, let us perform a thought experiment. Let us imagine Players Weekend began at the dawn of major league baseball, and, in so doing, invent nicknames to appear on the fictional jerseys of players from the past. But first, let us set forth two rules.
1) In creating these nicknames, we cannot use the player's accepted moniker. Example: Bob "Death To Flying Things" Ferguson, who played in the late 1800s, cannot be assigned the aforementioned nickname, even if it is the greatest nickname in the annals of the American Pastime. (It is.) We must instead create a variation of the name, or an entirely new sobriquet, in efforts to honor the very essence of that player — whether he'd like it or not.
2) By kingly decree, the nickname must be contemporaneous with the time in which the player played. That is, we can't give a player a name he couldn't possibly have had. Example: Originally, I wanted to bestow upon Lenny "Dude" Dykstra the name Bill Past Dude, but then I realized Dykstra began ignoring invoices only after his career had ended.
Got it? Good.
As Bill "Wagon Tongue" Keister might have said, "Why are you calling me Wagon Tongue when my name is Keister? Oh, and let us begin!"
Hall Of Fame Players
Luke "Old Aches And Pains" Appling
Hy Pochondriac
Earl "The Earl Of Snohomish" Averill
Viscount Of Skykomish
Frank "Home Run" Baker
An indie ball team in Texas is taking on a bold experiment.
Frankie Four Bags
That's Mr. Cub To You
Lawrence Of Berrabia
The Flatulist!
A Reeeeeeeeaaaaaaaaal Peach
Airheaded Academician
Bill "The Man Nobody Knows" Dickey
Mr. Ree
The DiMaggio
The Chin Music Man
Eck As In Veeck
The Guy In The Middle
Sir Stache-A-Lot
The One And Only Pudge
Frankie "The Fordham Flash" Frisch
>The Rutgers Rash
Pud The Spud-Shaped Stud
The First Third Person
Jim, Actually
Reggie "Mr. October" Jackson
Autumn Honorific Owner
Randy "Big Unit" Johnson
Gigaparsec
Wee Willie Keeler
Wee The People Person
The Wizard Of Schnozz
Angry Waterfowl
The Spavinaw Bolide
Homer
Johnny "The Big Cat" Mize
Feline Of Unusual Size
Juvenile Dimes
Kniekroballer
Mel Should
The Complete Package
Old Hoss Radbourn
Glue
Tim "Rock" Raines
Cal Ripken Jr.
Bill's Brother
Brooks "The Human Vacuum Cleaner" Robinson
The One And Only Pudge II
Vermillion Camping
Me
Shane Deenst
Enos "Country" Slaughter
Agrarian Bloodbath
Flipper
The Elocutionist
The Guy At The Beginning
Pastry Tutor
Honus The Bonus
Lloyd "Little Poison" Waner
skull and crossbones
Paul "Big Poison" Waner
SKULL AND CROSSBONES
Zach Wheat
Gene S. Triticum
Antecedent Victory
Eye Chart
Explanatory Footnotes
Luke "Old Aches And Pains" Appling: Hy Pochondriac
Okay, let's begin these explanations with one you probably don't need. A lot of old-timey players had old-timey nicknames, and, like Appling, some had really good old-timey nicknames. I mean, as old-timey nicknames go, can you really beat "Old Aches and Pains?"
In all likelihood, the creaky infielder would have sported Old Aches And Pains across the back of his White Sox jersey had Baseball instituted Players Weekend in the 1930s through 1950s. He also would've complained that the stitching was "kinda itchy." But again, we can't pick Old Aches And Pains. What we can do is coin a nickname for the nickname.
Oh, and Hy really is a name. It's kind of old-timey.
Don Drysdale: The Chin Music Man
Chin mu·sic (noun informal)
1. Used to refer to a pitch that passes very close to a batter's chin.
With regard to Drysdale's whisker acoustics, Pirates shortstop Dick Groat put it best: "Batting against Don Drysdale is the same as making a date with a dentist." Not only did Big D lead the National League in hit by pitches in four straight seasons and in five overall, he almost certainly topped the informal category of holy-moly-that-nearly-removed-my teeth!
Just how dedicated was Drysdale to the cause of backing batters away from the plate? Well, he once dropped Willie Mays in the dirt with a first-inning fastball very near the man's bicuspids … in an old-timers game in 1976.
Combine Drysdale's history with the fact that Broadway in 1957 launched The Music Man and, well, we've got ourselves a nickname.
Side note: Given that Big D's music amounted to a brief monotone hum, it would have been performed by a Broadway orchestra composed entirely of short-winded kazooists.
Dennis Eckersley: Eck As In Veeck
Remember Bill Veeck's book Veeck As In Wreck?
Well, in our revisionist history, so does Eck.
Frankie "The Fordham Flash" Frisch: >The Rutgers Rash
A flash is preferable to a rash, just as an earl is superior to a viscount.
Pro tip: Viscounts with rashes are especially vexing.
Pud Galvin: Pud The Spud-Shaped Stud
Pud Galvin was among the greatest pitchers of his era. He won 20 or more games in each of 10 seasons, with a high of 46 wins in both 1883 and 1884. He would retire with 365 victories and a lifetime ERA of 2.85, accrued across 15 big league campaigns. But as he got deeper into his career, the righty began to pack on weight as readily as he picked up victories, putting as much as 250 pounds on his 5-foot-8 frame. The weight gain prompted contemporary observers to call him "short" and "fat." So, let's call it like we'd have seen it.
Pud might have been potato-shaped, but he did not throw meat.
Reggie "Mr. October" Jackson: Autumn Honorific Owner
Yep, it sounds like a New York Times Sunday Crossword clue. But darned if you wouldn't read the clue, realize "Mr. November" contains one too many letters and then shout, "A-ha! It's Mr. October!" while writing the answer with a black ballpoint pen, you genius.
Randy "Big Unit" Johnson: Gigaparsec
One gigaparsec is equal to one billion parsecs. Put differently, one gigaparsec is equal to 3.26 billion light-years. This is not something you'd measure in millimeters.
In other words, a gigaparsec is a really … big unit.
Greg Maddux: Angry Waterfowl
Mad ducks!
Mickey Mantle: The Spavinaw Bolide
Among the Mick's many nicknames was The Commerce Comet. Why? Because he grew up in Commerce, Okla., and because he was fast and powerful and rare. Yet in truth, the Mick was born in Spavinaw, Okla. And a bolide is an extremely bright meteor that explodes in the Earth's atmosphere.
No joke. The name is perfect.
It is true, however, that bolides rarely have bad knees.
Bill Mazeroski: Homer
Let's be frank: Maz reached the Hall of Fame on the strength of one key homer — the one he hit off of the Yankees' Bill Terry in the bottom of the ninth inning of Game 7 of the 1960 World Series to give the Pirates their first title.
His Hall of Fame credentials otherwise amount to a 30.9 career WAR. For comparison, note that Lou Whitaker — also a second baseman but one who never hit a World Series-winning homer and who is not in the Hall — owns a career WAR of 68.1. So, let's give Maz the mononym he merits.
Would Maz have worn the name Homer during his career, decades prior to his 2001 induction? Answer: Sure, why not? The homer, which came just five years into his 17-year career, rendered Maz legendary not only to a latter-day Veteran's Committee but also to his contemporaries. His heroism was instantaneous. Indeed, radio announcer Chuck Thompson's home run call ended thusly: "It is over the fence! Home run! The Pirates win! 3:36 p.m., Oct. 13, 1960!"
We would also accept Homeroski.
Johnny "The Big Cat" Mize: Feline Of Unusual Size
I cheated. Remember, these personalized nicknames are supposed to be contemporaneous with the time in which the player played. Example: Originally, I wanted to call Mario Mendoza — he of Mendoza Line infamy — The Line King. Hilarious, right? But guess what! The movie The Lion King came out in 1994, a dozen years after Mendoza's final game. So, he couldn't have had the nickname because the pun wouldn't have meant anything.
Well, speaking of movies, the phrase "Rodent of Unusual Size" comes from the 1987 movie The Princess Bride. Johnny Mize retired after the 1953 season, his 15th in the major leagues. How do we reconcile these incompatible facts? Well, independent of The Princess Bride, Johnny Mize could have been called a Feline of Unusual Size. Inconceivable, you say?
Zach Wheat: Gene S. Triticum
What we have here is the world's worst pun.
Wheat, you see, belongs to the genus Triticum. Gene S. Triticum.
I'll show myself out.
Hall of Infamy Players
Nick O. Tine
Corky
BALCO-DEPENDENT
Pointy McFinger
He Got Heat
X. Ploiter
Lysergic Asset
Trade Partner
Abnormally Big Mac
The Publisher
Bo Ing
Chairman Of The Board
Waggy McFinger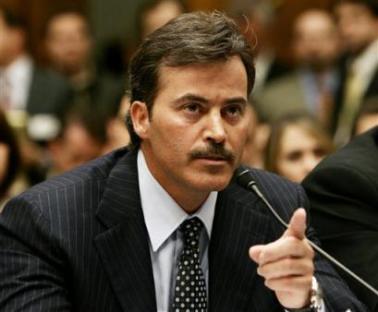 The Sackmaster
Trade Partner 2
Advanced Jackass
Xeno: Warrior Prince
The Bettor Player
The Last Straw
Explanatory Footnotes
Dick Allen: Nick O. Tine
Dude smoked cigarettes … in the dugout!
Albert Belle: Corky
Dude used a corked bat … in the batter's box!
Hal Chase: X. Ploiter
Dude bet on baseball … in the midst of his big league career!
Dock Ellis: Lysergic Asset
Dude pitched a no-hitter … on lysergic acid diethylamide!
Mike Kekich: Trade Partner
In 1973, Kekich famously swapped wives with teammate Fritz Peterson.
Young readers, know this: It wasn't part of a reality show.
Denny McLain: The Publisher
In the late 1960s, McLain initiated a bookmaking venture. In other words, he accepted and paid off bets. It did not go well. Still, "bookie" is such a loaded term, so freighted with seamy-underbelly connotations. So, for the sake of decorum, let us refer to the bookmaker as The Publisher.
Graig Nettles: Bo Ing
Upon breaking his bat during a game against Detroit, Nettles got busted for having six Superballs inside it. Boing! Umpire Lou DiMuro called Nettles out … but didn't eject him.
Oh, 1970s, why did you leave us?
Joe Niekro: Chairman Of The Board
During a game in 1987, umpires famously busted Niekro with sandpaper and an emery board in, and then out of, his back pocket. It might be the funniest baseball scene of all time — physical comedy with its own visual punchline. Perhaps Niekro and Nettles should have performed a cheat-centric comedy routine called Who's On First Watch?
Fritz Peterson: Trade Partner 2
See Mike Kekich.
John Rocker: Xeno: Warrior Prince
In a 1999 Sports Illustrated article, the Braves reliever decried the stateside presence of non-English-speaking "foreigners" and thereby outed himself as an unapologetic xenophobe — and a belligerent one, at that. Had Rocker been given a Xena: Warrior Princess-like TV show premised on the subject of his rant, it might have become a cult favorite. Or a Klan favorite.
Hall Of Very Good Players
Standard Currency
Saturday Night Jail Face
Homo Brachium Noodle
The Other DiMaggio
The Other Other DiMaggio
Turkey Mike Donlin
My Name Is Irony
Death To Frying Things
The Grich Who Stole Second
Haddix But Lostix
Boot Hurtin'
Al "The Mad Hungarian" Hrabosky
The Hungry Madarian
Designated Hittee
Extremely Armed And Also Dangerous
Arlie "The Freshest Man On Earth" Latham
The Picker
John "Tight Pants" Titus
Johnny N. Fertile
Bill Splitter
Pasta
Explanatory Footnotes
Will Clark: Saturday Night Jail Face
Owing to his grievous expression, longtime major leaguer Jeffrey Leonard boasted one of the great nicknames in baseball history: Penitentiary Face. He was not alone, however, in featuring a physiognomy that communicated the very essence of incarceration.
Ladies and gentleman … Mr. Will Clark.
Johnny Damon: Homo Brachium Noodle
Not only was he called Caveman, he had an arm made of overcooked linguini.
Harvey Haddix: Haddix But Lostix
He had a perfect game in the 13th, and lost a perfect game in the 13th.
Burt Hooton: Boot Hurtin'
He's from Texas, sure, but as Mama says, that don't mean his boots fit right!
Ron Hunt: Designated Hittee
Hunt led the league in hit by pitches for seven straight seasons and still holds the all-time record with 243 HBPs. That's a bunch of free bases — and bruises. Bear in mind that Hunt, whose major league career spanned from 1963 through 1974, played in the days prior to elbow guards, et cetera. Accordingly, we would also accept the nickname Bad A**.
Or Bombing Range.
Mookie Wilson: Bill Splitter
I don't know if Mookie Wilson is a guy who routinely splits the dinner bill, even if he eats a salad while you dine on lobster thermidor. What I do know is that he split Bill Buckner's wickets with an everlasting grounder.
Michael Young: Pasta
Longtime fans know that Young, a good hitter but slow-footed fielder, inspired an oft-used phrase: Past A Diving Michael Young. True story: If you order Pasta Diving Michael Young at your favorite Italian restaurant, it comes with a pitcher of bitterness.
Other All-Stars (American League)
Ben E. Factor
The Phantagonist
The Oxymoron
Will Pickupo
Ross Grimsley
One-Pack
That Jaha Moment
Bad Gravy
Donny Raison D'etre
Initial Idiot
Carpeted Individualist
Pastor Caviar
The Terrier
Rusty "Le Grande Orange" Staub
Big Nehi
Infernal Lorries
Frank "Sweet Music" Viola
Orchestral Manoeuverer In The Park
Golly Four Balls
Paul E. Math
Explanatory Footnotes
Grant Balfour: Ben E. Factor
A pitcher named Grant Balfour? Grant Ball Four?
Quite the benefactor, I'd say.
We await the debut of his spiritual heir, Walker O'Batters.
Joe Carter: The Phantagonist
Joe Carter homered against Phillies reliever Mitch Williams to win the 1993 World Series for Toronto. Phillies phans were phrustrated. The Phillie Phanatic had no phun at all. And so Joe Carter, he of the heroic pheat, had phulphilled the requirements of a Phils antagonist.
Mark Clear: The Oxymoron
A mark, by definition, is visible. That much is clear.
Charlie Hough: One-Pack
This one is both objective and subjective. Objective: Charlie Hough smoked cigarettes throughout his career, even in the dugout. Subjective: One night, many moons ago, I visited with Hough in the Rangers locker room. He smoked cigarettes and drank cans of beer the entire time. He also had his shirt off. Let's just say he did not boast six-pack abs.
One-pack ab? Maybe.
Jerry Lumpe: Bad Gravy
Yep, Lumpe is pronounced "lump-ee."
Don Money: Donny Raison D'etre
Big leaguers have always played for camaraderie and competition, but they will never play for free. You can't buy food, or Maseratis, with love of the game.
J.J. Putz: Initial Idiot
"Putz," in Yiddish, means "idiot." For all I know, J.J. Putz is a Craig Breslow-level genius. Perhaps he wrote quadratic equations in the dirt. But that doesn't change the fact that his name, alas, is J.J. Putz.
Joe Pepitone: Carpeted Individualist
Pepitone is known to have worn a toupee even during games. Accordingly, I nearly called him the Rugged Individualist — double entendre! — but, hey, let us agree to call him the Carpeted Individualist as we envision his fake hair flying while he, uh, shags fly balls.
Virgil Trucks: Infernal Lorries
In Dante's Inferno, the ancient poet Virgil leads Dante through the underworld. Had combustion engines been invented in 14th-century Italy, perhaps they would have used a truck, or lorry, on their wearisome tour of Perdition's concentric sectors. And had Ryan Braun been alive — and then, well, not alive — in 14th-century Italy, perhaps Dante and Virgil would have seen the outfielder in Hell's Eighth Circle, reserved, of course, for frauds.
Frank "Sweet Music" Viola: Orchestral Manoeuverer In The Park
Are you familiar with the band Orchestral Manoeuvres in the Dark? In 1986 they had a big hit called If You Leave. Maybe you danced to it. Maybe your parents danced to it. Or maybe, instead of attending the prom, they watched Viola surrender six earned runs without retiring a Boston batter on the night of May 20, 1986. In any case, Viola had time to watch the music video several times that night. He did leave, in the first inning, no ifs about it.
C.J. Wilson: Paul E. Math
Polymath (noun)
1. a person of wide-ranging knowledge or learning.
He races cars! He plays guitar! He writes novels, albeit unpublished! He's a gourmand, a straight-edger, a Taoist and he married a Brazilian model! Ladies and gentlemen … Paul E. Math. No word yet on whether he'll write a novel about writing a song about a Taoist model who races a customized McLaren P1 to a drug-free cooking class.
Other All-Stars (National League)
Joaquin N. Totrouble
Jobless Breadmaker
The Hey Cey Kid
Joey Four-Day Three-Night
Spell Check
Warrior Pete
Stanley Grosskoff
Ben Gray
The Other Corey Hart
I Shall Be Livan
Sir Thomas Of Lancaster
John "The Count" Montefusco
3-and-2
Paul O'Neill
Pele
Radar
Bygone Linens
GarrE6
Load-Bearing Jean
Whozit
Explanatory Footnotes
Joaquin Andujar: Joaquin N. Totrouble
Following his ejection from Game 7 of the 1985 World Series, Andujar grabbed a bat and went all rock-star on a toilet and sink in the visitors clubhouse at Royals Stadium. A year later, Commissioner Peter Ueberroth slapped him with a suspension for dealing cocaine to teammate Lonnie Smith. That's trouble, and Andujar had walked right into it.
Dusty Baker: Jobless Breadmaker
Get dust in the pumpernickel, you're gone.
Tom Herr: Sir Thomas Of Lancaster
In German, "herr" means "sir." Tom Herr was born in Lancaster, Pa.
I know what you're thinking, but it's a bad idea: Though poetic, Sir Herr is redundant.
Paul O'Neill: Pele
Paul O'Neill boasted a famously hot temper. He went toe-to-toe with water coolers on numerous occasions, winning most of the time. He screamed at umpires and yelled at himself. He threw bats and hissy-fits. Once, when frustrated by his inability to field a ball cleanly in right field, he kicked the darn thing all the way to first base. So, what better name than that of soccer's most famous scorer?
Per myth, Pele is also the name of the fire goddess who created the Hawaiian islands. Not surprisingly, she is famed for her power, passion and capriciousness. And somehow, she managed to win five rings.
Connie Ryan: Radar
On Sept. 29, 1949, at Braves Field in Boston, Ryan and his Braves teammates used newspapers and game programs to build small fires in front of the dugout as a signal to plate umpire George Barr that the game should be called because of the heavy downpour.
Still, the game went on.
Finally, in the bottom of the fifth inning and with his Braves trailing Don Newcombe and the Dodgers, 8-0, Ryan stepped from the dugout wearing a rain slicker as an even bolder indication of the deluge. Barr didn't stop the game, but he did eject Ryan. Perhaps ironically, the umpires halted the game following the Braves' scoreless half inning.
The rain had finally won.
So had Ryan, who had the sense to get out of the game.
Garry Templeton: GarrE6
Gary Templeton led NL shortstops in errors four times, with a career-high 40 in 1978, and placed in the top five in eight other seasons. Among shortstops, he ranks 43rd all-time, with 343 errors. Among shortstops born after 1918, he ranks first. Hence, the nickname.
If somebody weren't using it, I might have picked Bootsy.
Various And Sundry Others
Sweetbread Bailey
Abraham Lincoln
Bald Billy Barnie
Cap Enthusiast
Whispering Bill Barnett
Re-Pete
Bivalve Bernie
Berenyi Own Beer
ROY
Parisian Bob Caruthers
Froggie Rob
I. Sockit
Pearce "What's The Use" Chiles
N. Effective
Bob "Death To Flying Things" Ferguson
Buckshot
King Chief
That Guy On That Card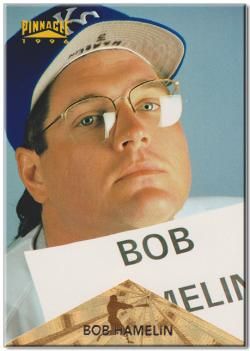 Backside Billy
Tobacco Chewin' Johnny Lanning
Bris "The Human Eyeball" Lord
Circumcision "The Human Eyeball" Liege
Burl Esque
Bernie McFoot
Mario Mendoza
Hugh "Losing Pitcher" Mulcahy
Dee Feated
I.V. Phobe
Rawmeat Bill Rodgers
Sal Monella
Utility Bill
N.E. Nickname
George "Satan" Stutz
Lou Cifer
Uek As In Wreck
Explanatory Footnotes
Sweetbread Bailey: Abraham Lincoln
Why Abraham Lincoln? Why, that was his given name.
Angel Berroa: ROY
In 2003, Royals shortstop Angel Berroa earned AL Rookie of the Year honors. Within the span of three seasons, he had become another sort of ROY: an embodiment of the schoolyard acronym ROY, meaning the Rest O' Y'all, reserved for ungainly kids chosen last for pick-up teams.
Of course, those kids often grow into another acronym: CEO.
Berroa? He grew into negative WAR.
Joe Charboneau: I. Sockit
Another AL Rookie of the Year whose star quickly faded, Charboneau performed his own dental work, repaired his broken nose with pliers and drank beer with a straw through his nose. Oh, and he often opened the beer bottle with his eye socket.
With 23 home runs in 131 rookie games, he could also sock it.
Steve Lyons: Burl Esque
Remember when Lyons performed an inadvertent striptease along the first base line? No?
Well, you will now.*
* Rated PG-13.
Roger McDowell: Bernie McFoot
Reliever McDowell had a gift for physical comedy. Prior to a 1987 game in Los Angeles, he stepped to the field wearing his uniform upside down. That same season, he performed a satirical take on ball scuffing by wearing a carpenter's belt — complete with chisel, file and sandpaper — to the bullpen.
Above all, McDowell proved himself a skilled practitioner of "the hotfoot," crawling beneath dugout benches to set teammates' shoes aflame. Had he required an alias for his alias, he could have gone with N. Cendiary. Or perhaps R. Sonist.
Lou Novikoff: I.V. Phobe
Cubs outfielder Lou "The Mad Russian" Novikoff was nothing if not eccentric. One odd behavior centered on his irrational fear of the ivy on the outfield walls at Wrigley Field. Not only did the bizarre anxiety render him an ineffective outfielder, it also made him — wait for it — an ivy phobe.
George "Satan" Stutz: Lou Cifer
I nearly chose Deviled Goose Eggs. Why?
Because Stutz, in his six-game career, went 0-for-9. Hell of an effort, though.
Bob Uecker: Uek As In Wreck
With Mr. Baseball, there's no reason for rhyme.
And One More
Z End
John Paschal is a regular contributor to The Hardball Times and The Hardball Times Baseball Annual.